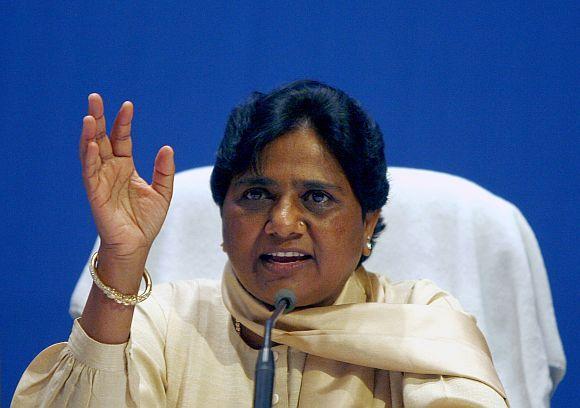 Bahujan Samaj Party chief Mayawati on Thursday launched a frontal attack on Bharatiya Janata Party's PM candidate Narendra Modi saying the country will be "ruined" due to spike in communal riots if he is voted to power.
Hitting the campaign trail in Vidarbha, which is considered as a Congress bastion with a sizable Dalit population, the former Uttar Pradesh chief minister said her party would emerge as a "balance of power" after Lok Sabha polls.
"Modi was responsible for 2002 communal riots which affected entire Gujarat," she said.
Mayawati was also unsparing in attacking Congress and said, "The national party has taken no concrete steps for betterment of the backward community members including scheduled caste and scheduled tribes and other minorities be it Sikh, Christians and Muslims".
She alleged Congress was responsible for overall misrule and backwardness of the country during last 60 years.
In a reference to likely ascension of Rahul Gandhi, Mayawati said,"...Though Congress has not declared anybody as its Prime Ministerial candidate, it is apparent that their 'Yuwaraj' (prince) is their candidate for the top post".
"Modi is claiming that if voted to power BJP will change the picture of the country but what did the saffron party do when NDA was in power?," the Dalit leader said.
In a veiled attack on ruling Akhilesh Yadav government in Uttar Pradesh, Mayawati said during her stint as chief minister she had always ensured that those indulging in communal riots are put behind bars.
"...People of Uttar Pradesh had given me four opportunities to serve and during my rule the state was free from communal riots," she said.
Mayawati said if voted to power, BSP will make all-out efforts to improve India's relations with neighbouring countries; enhance border security and evolve a better economic model which will help the poor of the country.
"...All efforts will be taken to curb naxal menace and control terrorism," she said.
BSP has fielded Gunwant Deopare, a builder from Amravati seat where NCP's Navneet Rana and sitting Shiv Sena MP Anandrao Adsul are in the fray.
Mayawati said she favoured reservations on the basis of economic status. "...The quota for reservation in government service is inadequate and more sections of society are being added to it," she said.
Exhorting BSP cadres to not fall prey to any "false propaganda" by Congress and BJP and their "evil designs", Mayawati said both the parties should be stopped from coming to power.
"...Don't get carried away by tall promises being given by parties in their election manifestos. BSP does not believe in coming up with manifesto since it believes in work and welfare of the backward communities," Mayawati said.
She also asked her party cadres to desist from believing in "misleading" projections appearing in media about elections and their likely outcome.
All BSP candidates from Vidarbha region attended the rally.