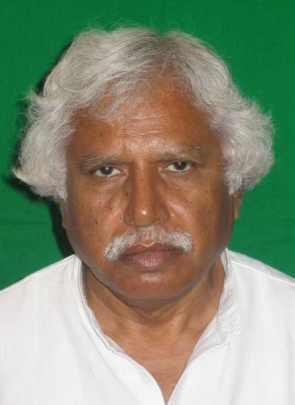 Ignoring controversies surrounding him over Adarsh housing scam, the Congress has decided to field ex-Maharashtra chief minister Ashok Chavan for the Lok Sabha polls and has fielded Madhusudan Mistry, a close aide of party vice president Rahul Gandhi to take on Narendra Modi in Vadodara. Anita Katyal reports
Continuing with its policy of not giving a walk-over to the Bharatiya Janata Party stalwarts, the Congress decided to pit its general secretary Madhusudan Mistry against Gujarat Chief Minister Narendra Modi from Vadodara. Modi is contesting from two seats -- Vadodara in Gujarat -- and Varanasi in Uttar Pradesh.
In another important decision announced on Tuesday night, the party named scam-tainted former Maharashtra chief minister Ashok Chavan from the Nanded Lok Sabha seat.
Chavan had lobbied hard for a ticket after state governor denied permission to the Central Bureau of Investigation to pursue the case against the former chief minister. There had been reports that Chavan's wife could be accommodated if he was denied a ticket.
Chavan was forced to step down as chief minister after his name surfaced in the Adarsh housing scam. It was generally believed that tainted leaders would be kept out of the electoral fray after Congress vice-president Rahul Gandhi was projected as an anti-corruption crusader.
However, the Congress appears to have had second thoughts on this score. Winnability has obviously emerged as the guiding principle in the selection of candidates. The party has argued that only those who have been chargesheeted and convicted should be considered to be "tainted" and kept out of the electoral fray.
The Congress leadership took the same plea earlier when it re-nominated former railway minister Pawan Kumar Bansal from Chandigarh, though he was forced to resign after his nephew was involved in a bribery case in his ministry. While Bansal was considered to be a strong candidate, Chavan was fielded again as the Congress needs a strong Maratha leader in the Marathwada region to fill the vacuum left by the late Vilasrao Deshmukh.
While the Congress is yet to zero in on a formidable candidate for the Varanasi seat, it named Mistry for the Vadodara contest. The Congress general secretary has replaced Narendra Rawat whose name had been cleared for this seat after he was elected in the primaries.
Rawat withdrew from the race earlier on Tuesday evening to enable the party to put up a strong candidate against Modi. Considered a lightweight, Rawat was initially named for the Vadodara seat as this constituency had been included in the list of 17 Lok Sabha constituencies where Congress vice president Rahul Gandhi's experiment of primaries was conducted.
The party did not know then that Modi would contest from Vadodara. While Mistry declared confidently that he would defeat the BJP's prime ministerial candidate, his last electoral foray from Sabarkantha in the 2009 Lok Sabha poll had not proved successful. Known to be close to Rahul, he was recently elected to the Rajya Sabha along with former Madhya Pradesh chief minister Digvijaya Singh and former Union minister Kumari Selja.
Although Vadodara is known to be a BJP bastion, the Congress persuaded Mistry to take on Modi as it did not want to give the impression that it is running away from a fight. It was for this reason that it fielded former Punjab chief minister Amarinder Singh against BJP's stalwart Arun Jaitley in Amritsar, Union Health Minister Ghulam Nabi Azad from Udhampur and Congress general secretary Ambika Soni from Anandpur Sahib.
The Congress was embarrassed when Union Information and Broadcasting Minister Manish Tewari developed cold feet and opted out of the Lok Sabha election. Tewari wanted to contest from Chandigarh as he was not confident about winning in his old seat Ludhiana. The party has fielded Anandpur Sahib Member of Parliament Ravneet Singh Bittu from Ludhiana in Tewari's place after he had to caveat his seat in Soni's favour.
The Congress is now on a hunt for a suitably strong candidate for the Varanasi seat as it wants to keep up the pressure on Modi even though the grand old party realises that the BJP candidate has a distinct advantage.
The Varanasi election has become interesting after Aam Aadmi Party leader Arvind Kejriwal declared that he would be challenging Modi in this holy city which has been a BJP stronghold for the past several elections.
Image: Madhusudan Mistry