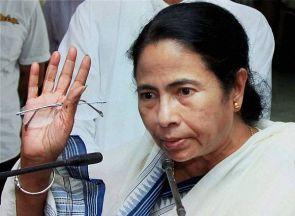 With transfer of 23 police and administrative officials by the EC ahead of Thursday's Lok Sabha elections, West Bengal Chief Minister Mamata Banerjee suspected Congress and CPM hand behind their removal by the poll panel.
A list of such transfers was being prepared at the home of Congress President Sonia Gandhi's political adviser Ahmed Patel in Delhi, Banerjee alleged at an election rally in West Midnapore district.
"Though it is unfortunate, but it is true. Some leaders of Congress and CPM, at the residence of Ahmed Patel in Delhi, are preparing lists where DMs, SPs, OC's and the BDOs will be changed," Banerjee said
"I say that the replacement for a DM, SP or BDO will be from the state. They will not come from Delhi," she said.
"We will, however, abide by whatever decision the Election Commission takes. We will abide by the Constitution," she said referring to inconvenience caused to the people for the five-phase polls being held in extreme summer.
On Tuesday, 13 OCs, seven ICs and three BDOs were transferred by the Election Commission.
Apparently targeting Congress, she asked if the party was so sure about its victory in the polls, then why were the OCs of Sabang and Berhampore changed.
WBPCC President Adhir Chowdhury is seeking reelection from the Berhampore Lok Sabha constituency and senior Congress leader and party MLA Manas Bhuniya from Sabang is contesting from the Ghatal Lok Sabha seat.
She earlier had a standoff with the EC over transfer of a DM, two ADMs and 5 SPs following complaints by opposition political parties, before backing down.
"It is not enough after changing the SPs and DMs. Now OCs have to be changed. Will the police go and vote for you? Do policemen indulge in rigging?
"We are not like the CPM. We do not need to win the election by resorting to rigging," she said.
She alleged that the CPM, which had lost ground, had indulged in rigging booths and were now complaining to the EC.
"Congress, BJP and CPM are playing a fixed match," she claimed.
Image: West Bengal Chief Minister Mamata Banerjee