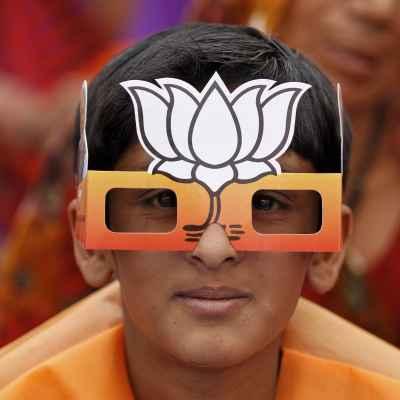 The BJP is of the view that Jharkhand, Bihar and Uttarakhand governments could collapse and a Modi wave may resurrect its chances, notes Archis Mohan.
If the Bharatiya Janata Party-led National Democratic Alliance forms the next central government, Bihar's Janata Dal (United) government, under Nitish Kumar, might be the first casualty. BJP leaders on Tuesday claimed half the members of Kumar's party were upset and could cross over to BJP.

Bihar, though, might not be alone to feel the pinch. A favourable BJP-led government at the Centre is likely to motivate the party units in Delhi, Jharkhand and Uttarakhand to push for BJP rule in these states, too.

The Delhi legislature is in suspended animation since the Aam Aadmi Party government quit in February. The Congress government in Uttarakhand survives on a wafer thin majority, and so does the Jharkhand Mukti Morcha-Congress alliance in Jharkhand.

A section in the BJP is of the view that the Jharkhand, Bihar and Uttarakhand governments could collapse "because of their internal contradictions" and elections could be held within months of conclusion of the Lok Sabha polls.
"The BJP would do well in the wake of the 'Modi wave' and form governments here," a party leader said. Jharkhand is slated to go to polls by end of this year. So are Haryana and Maharashtra.
The Bihar assembly's term ends in early 2015, while Uttarakhand elected a new assembly in January 2012 and Delhi in November 2013.

Maharashtra and Haryana are two states where, again, the BJP would hope to form governments. Maharashtra is currently ruled by the Congress-Nationalist Congress Party alliance, while Haryana has a Congress government. The Maharashtra government faces anti-incumbency after 15 years in power, while Bhupinder Singh Hooda's government has been in power in Haryana for 10 years.

According to BJP leaders, like Shahnawaz Hussain and Sushil Kumar Modi claimed in Bihar on Tuesday, engineering defections in a rival party is anathema to the party. They say non-BJP governments might fall under the weight of their internal contradictions after the general elections.

The BJP leadership on Tuesday claimed the Nitish Kumar government in Patna was at its mercy. Hussain and Modi said as many 52 JD(U) legislators had contacted BJP.

The JD(U) has 116 MLAs in the 243-member Bihar assembly, while BJP has 91 members. The majority mark is 122. The anti-defection law requires two-thirds of a party's MLAs to defect, else they face a certain expulsion from the legislature.

Sushil Modi, who was Bihar's deputy chief minister till BJP and JD(U) parted ways in June 2013, said in Patna that most of JD(U) MLAs were against Nitish Kumar's decision to end the JD(U)-BJP alliance. "The MLAs are helping BJP candidates in the Lok Sabha polls," Modi said.

Hussain, a sitting MP from Bhagalpur, said in New Delhi that JD(U) MLAs were upset with the whimsical and undemocratic leadership Nitish Kumar had displayed over the past year.
"Even a senior leader like Sharad Yadav has little freedom to speak his mind. MLAs are angry that Nitish ji has been giving legislative council and Rajya Sabha tickets to outsiders," Hussain said, adding that JD(U) MLAs "don't see any future by continuing with Nitish". Both Modi and Hussain, however, stressed BJP had or would have no role to play in the eventual fall of the Nitish government.

A BJP leader said the party would sit down to think its Bihar strategy after the Lok Sabha polls. "We need to weaken Nitish's Kurmi and Mahadalit vote base if we have to challenge (Rashtriya Janata Dal chief) Lalu Prasad's Muslim-Yadav vote bank."

Some in Delhi BJP are also confident of forming a government in Delhi. A section in the state unit claims there were enough AAP MLAs who didn't want another Assembly election in Delhi, and would be willing to cross over to BJP. However, the majority view is that BJP shouldn't sully its hands with horse-trading and engineering defections. This section wants fresh elections and is certain the party will do much better on the strength of the 'Modi wave'.

In the Delhi state elections in November 2013, BJP along with its ally Shiromani Akali Dal had fallen four seats short of a simple majority in the 70-member House. Ther combine had won 32 seats, AAP had bagged 28. But AAP's Arvind Kejriwal, who had formed the government with support from eight Congress MLAs, had quit after 49 days. The assembly has since been in suspended animation and Delhi under President's rule.

Similarly, Congress government in Uttarakhand has a thin majority in the 70-member House. In the state elections in January 2012, Congress had won 33 seats, while BJP had got 30. The Assembly has three BSP MLAs and independents supporting the Congress government, while the lone Uttarakhand Kranti Dal MLA has allied with BJP.

In Ranchi, the Hemant Soren-led Jharkhand Mukti Morcha-Congress government has a majority of just one in the 79-member House. The JMM-led alliance has 40 MLAs, including the speaker, while the Opposition has 39. The state government completes its term towards the end of this year.
Image: A boy wearing paper goggles featuring a lotus attends a campaign rally addressed by Narendra Modi, at Kheralu, Gujarat.
Photograph: Amit Dave/Reuters