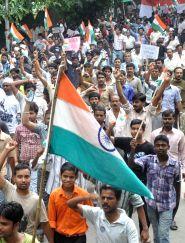 Armed with out-of-the box manifestos that promise abolition of income tax and unemployment allowance to educated youth, 48 Lok Sabha candidates of 21 lesser known parties have jumped in the poll fray in Gujarat.
Some of these parties include Apna Desh Party, Yuva Sarkar, National Youth Party, Adivasi Sena Party, Bharatiya National Janta Dal, Bahujan Mukti Party, Bahujan Suraksha Dal, Bahujan Mukti Dal, Vishwa Hindu Sangathan, Loktantrik Samajwadi Party, Hindustan Nirman Dal, Hindustan Janta Party, among others.
Among these 'lesser known' parties, BMP has shown huge confidence by fielding candidates on 13 Lok Sabha seats, followed by BNJD with 4 seats, VHS(3), ADP(3), HND(3), HJP(3), BSD(2). Other such parties have fielded one candidate each.
Each of these party has a unique, fascinating and 'out-of-the-box' manifesto to attract voters. For instance, complete abolition of Income Tax is one of the main agenda of BNJD candidates.
"BNJD is a 14-year-old party being run from Gandhinagar by our president VM Gajera. Our party's mission statement includes abolition of Income Tax, abolition of either toll tax or road tax, reduction in VAT, and reduction in electricity bills," party candidate from Mehsana Girish Dabhi said.
NYP also has a unique agenda. "We registered this party in 2008 and fought elections in Rajasthan and Delhi earlier. Our prime motive is to give power to youngsters. India has 70 per cent youngsters," state party president Prateek Chavelikar said.
"Big parties take all the work from their young party workers, but, hardly give ticket to them. Thus, we have pitted a college student, Piyush Patel, as our candidate against (veteran BJP leader) L K Advani in Gandhinagar," he said.
On a similar tune, Yuva Sarkar party has fielded their sole candidate from Surat.
"The party came into existence 11 months back and fought Assembly elections in Delhi. We want old politicians to retire at the age of 60 and give chance to youth. We also demand that reservation must be based on economic condition, not cast," Yuva Sarkar candidate from Surat, Kirit Vaasni said.
Besides, the South Gujarat-based Adivasi Sena Party is determined to bring justice for tribals. Party president and founder Dr Pankaj Patel is also contesting from Valsad-ST seat.
"There is one more candidate fielded from Bardoli-ST seat by the party. I founded this party 8 years back to get justice for tribals, who are ignored by every government. We lost with close margin in previous Assembly election. But this time, I am confident that tribals will vote for us," said Patel, a qualified doctor who belongs to the tribal community.
Image used for representation purpose only