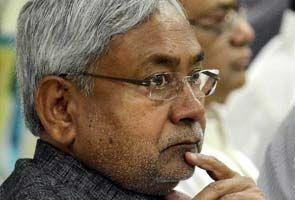 Bihar Chief Minister Nitish Kumar of the Janata Dal-United and his bete noire Rashtriya Janata Dal chief Lalu Prasad Yadav are not contesting the Lok Sabha polls, which has put their 'prestige constituencies' of Nalanda and Patliputra at stake.
Polling in both these constituencies is underway on Thursday along with 5 other seats.
Both Nitish and Lalu are taking personal interest to closely monitor the voting in the 2 constituencies.
For Lalu, the Patliputra seat is crucial because his elder daughter Misa Bharti is in the fray from this seat. Lalu has taken extra care to personally campaign in Patliputra and has worked hard as his personal stake is high.
According to RJD leaders, Lalu has deployed his trusted party leaders, including legislators in Patliputra to manage his daughter's election.

The BJP has fielded Ram Kirpal Yadav, who was known as 'Hanuman of Lalu' till February. But he revolted and left the RJD after being denied a ticket.

The ruling JD-U candidate and sitting MP Ranjan Prasad Yadav, who was described as 'Chanakya' in the mid 90s also deserted Lalu over a decade ago due to differences.

Misa publicly admitted that she is fighting against her two chachas (uncles).

With 3 formidable Yadavs in the fray in Patliputra, the vote share is bound to get divided. In the 2009 Lok Sabha polls, Lalu was defeated from Patliputra due to division of Yadav votes.

But the situation was different then. The JD-U and the BJP were in an alliance and Ranjan was supported by the upper caste -- Bhumihar, Rajputs, Other Backward Castes, Extreme Backward Castes, Mahadalits and Muslims.

This time Ram Kirpal is supported by the upper caste and others including a section of his castemen, Yadavs and Other Backward Castes.

The JD-U is hopeful of getting a major chunk of Kurmi votes (Nitish Kumar's caste), who have a strong presence after the delimitation of the constituency -- along with a major chunk of EBCs and Mahadalits.

Nalanda is Nitish's home district and a stronghold of the party. It was considered a safe seat till a few months ago but not any more. Congress has fielded former Bihar police chief Ashsish Kumar Ranjan, a Kurmi, from Nalanda. Sinha is considered close to Lalu, who has joined hands with the Congress for the polls.

Sinha is heavily banking on the support of his castemen, Lalu's support base of Yadav-Muslims and Congress's support base among different social groups.
Sensing a tough contest, Nitish Kumar campaigned for two days and addressed over half a dozen public meetings. He also visited several places to reach out to people seeking support for JD-U candidate and sitting MP Kaushalendra Kumar.

LJP candidate Satyanand Sharma, a Bhumihar, is eyeing the support of his castemen, other upper castes and his party chief Ram Vilas Paswan's castemen –Dusadh, the only Dalit caste in Bihar.
Image: Bihar Chief Minister Nitish Kumar