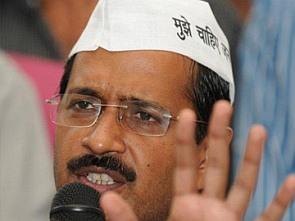 As voting got underway in this high-profile Lok Sabha constituency, AAP candidate Arvind Kejriwal said his direct fight was with Bharatiya Janata Party's Narendra Modi and Congress' Ajay Rai was nowhere in the contest.
Rai, however, dismissed these claims and said the voters of Varanasi will elect him as he was the only "son of the soil" in the fray.
Speaking to reporters outside a polling booth, Kejriwal said that people should come out in large numbers and vote, while similar appeal was made by BJP's prime ministerial candidate also through a tweet.
Meanwhile, questions were raised about presence of AAP leader Manish Sisodia in Varanasi, as all outsiders involved with poll campaign, excluding the candidates, are not allowed to remain within the constituency after campaigning stopped on evening of May 10.
There were also reports of some minor glitches with Electronic Voting Machines at some booths, while presence of laptops distributed by the SP government in UP at some polling stations in nearby constituency of Chandauli also came for attack from some quarters.
Voters at some booths also complained about their names not being present on the voter lists.

Rai, who came to vote wearing his election symbol 'hand' on his kurta, however, dismissed Kejriwal's claims and said that results would prove that people of Varanasi want a local to work for them.
When asked whether wearing hand symbol on his kurta while coming to vote could be violation of election rules, Rai said he was a candidate and entitled to "wear his symbol on his heart".