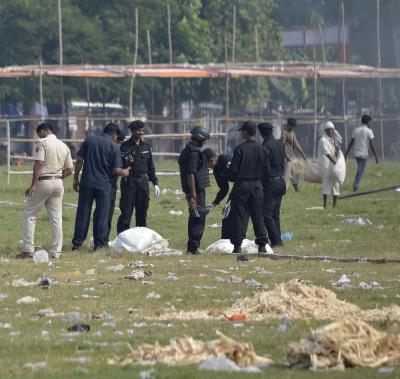 Sabir Ali's stint in the Bharatiya Janata Party lasted for a couple of hours.
Accused of being a Yasin Bhatkal sympathiser, till only a few days back he belonged to a party (Janat Dal-United) that has been allegedly going soft on terrorists. Vicky Nanjappa analyses if there's any truth to these claims
"Terrorist Bhatkal friend join BJP...soon accepting dawood........"

Bharatiya Janata Party's minority face Mukhtar Abbas Naqvi tweeted his dissent hours after the induction of Sabir Ali. Following pressure from the Rashtriya Swayamsevak Sangh and opposition from within the party, the BJP cancelled the membership of the former Janata Dal-United leader on Saturday.
But the furore was enough to dig into JD-U past and questions its 'soft approach' towards terror. Can there be any truth to Naqvi's tweet?
Rumors had it that Indian Mujahideen co-founder Yasin Bhatkal was arrested from Ali's house.
Investigators have rubbished this claim and maintained that Bhatkal was arrested last August from Nepal. However, the fact remains that despite several attempts, security agencies have struggled to track the IM's Darbhanga module to nab him. They waited patiently for Bhatkal to move out of Bihar, where he enjoyed protection, sources tell rediff.com.
There have been several instances where the ruling JD-U has openly objected to the raids carried out by security agencies in pursuit of IM operatives. In 2012, Bihar Chief Minister Nitish Kumar had shot off a missive to his then Karnataka counterpart Sadananda Gowda expressing outrage at the manner in which a terror suspect Mohammad Kafil was picked up from Darbhanga in the dead of night. The Karnataka police had undertaken a secret operation as they thought following the legal and administrative procedures would alert the suspect. Nitish called this a blatant violation of law, as the local police were not kept in the loop.
Sources in the Bangalore police said that they had no choice but to be discreet about the operation. "Nothing was in our favour and we needed this man for our investigation," the source added. The Bangalore police did not produce him before the Patna court, but in Ranchi to avoid any confrontation.
Former Janata Dal-United leader stirred a controversy last February after he likened the National Investigation Agency to kidnappers. His comments came after a youth Raisuddin was picked up for questioning by the NIA sleuths from Bihar in connection with Hyderabad blasts. He attacked the NIA for not keeping the state police in the loop while conducting raids.
"This (the arrest) took place two days after the Dilsukhnagar blasts in Hyderabad and we did not want any of the operatives to get away. There have been some issues while dealing with locals in Bihar," NIA sources pointed out.

JD-U's connection with terror is not just mere allegations. IM operative Tehsin Akhtar, who was arrested last week, is the nephew of Taki Akhtar, a JD-U leader from Samastipur. There are allegations that Tehsin, who mastermind the blasts ahead of Modi's Patna rally, used his uncle's political clout to stay safe on Bihar. But there has been no concrete evidence to prove these charges. The NIA, however, said that they made ten attempts to nab Tehsin in Bihar, but he managed to slip away each time as the locals protected him.
What was most shocking was the Bihar police's decision not to question Yasin Bhatkal about his role in raising Darbhanga module. The police said no case was lodged against him in that state and hence they kept a distance.
According to sources in the Intelligence Bureau, ample information was provided to the Bihar police about Bhatkal's activities in the state. There was enough evidence to show that he had stayed at Darbhanga under the guise of a doctor. This in fact helped him dodge the law and set up a major module in the state, IB officials added.
Barely a month after the arrest of Bhatkal, the IM carried out the Patna blasts, which left the establishment in Bihar red-faced.

Image: National Security Guard commandos inspect the site of a bomb blast in Patna last October

Photograph: Krishna Murari Kishan/Reuters