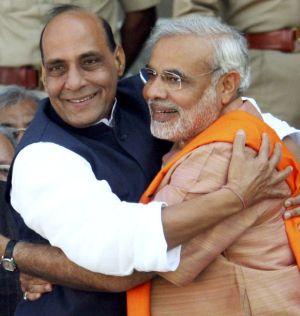 Sources reveal that Narendra Modi's first choice to contest the Lok Sabha election from the 'safe' Lucknow constituency could have affected BJP president's personal plans, who was getting increasingly uncomfortable in Ghaziabad. Sharat Pradhan reports.
The scouting for a comfortable Lok Sabha seat in Uttar Pradesh for Bhartiya Janata Party's prime ministerial nominee Narendra Modi appears to be creating an upheaval of sorts within the party rank and file in Lucknow.
Even though it was pretty evident from day one that the Gujarat chief minister was inclined to contest from an additional Lok Sabha seat beside his home state, top UP BJP leaders were throwing a fit now that they were being asked to vacate a berth for him.
Almost six months ago, a survey was carried out by Modi's own team in Lucknow and Allahabad. However, party veterans Murli Manohar Joshi and Lalji Tandon -- the respective sitting MPs -- were formally sounded about Modi's intention to seek a contest from either of these seats now. And evidently, both have taken affront to the suggestion.
Perhaps trouble could have been avoided if the choice was limited to Lucknow, which was Modi's first choice on account of various reasons. Besides being the safest Lok Sabha seat for the party, the state capital was also the pocket burrow of BJP's tallest veteran and former prime minister Atal Bihari Vajpayee.
Modi's contest from here was bound to give him an easy edge as also have ripple effect on the entire state.
Lalji Tandon, who besides being a disciple of Vajpayee, was also a smooth successor to his legacy. But he was not known to be the types who would have any reservations against vacating the seat for the party's new prime ministerial nominee.
If insiders were to be believed, it was BJP president Rajnath Singh who had actually thrown the spanner in the works. Singh was eyeing for Lucknow for a long time since he wanted to shift base from Ghaziabad from where he won the last election. He too could not think of a "safer" seat than Lucknow.
The emergence of the Aam Aadmi Party in Delhi and its rising influence in the neighbourhood of the national capital has made Rajnath Singh even more desperate to see Lucknow as a "truly safe" alternative.
It is said that the suave BJP chief found it convenient to impress upon Modi that the 30 per cent Muslim population of Lucknow could make things tough for him as polarisation of the minority community could pose a potential threat to him.
Singh was understood to have argued that his own candidature from here could prevent any sharp polarisation. After all Vajpayee never faced any such onslaught because of his "balanced" image.
Sure enough, that gives him not only several brownie points but also affords him a smooth plank to fulfill his own political ends. There was also this loud thinking that a politically wise and shrewd Rajnath Singh would also want to keep him ready as a dark horse in case the party was unable to cobble up the desired majority and there is hunt for a "widely acceptable face".
Image: BJP president Rajnath Singh with PM candidate Narendra Modi