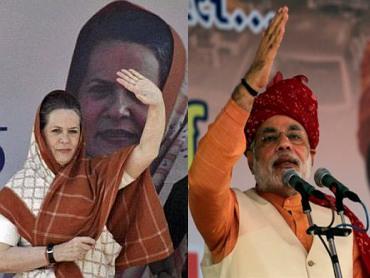 Promising to change the Assam situation, Narendra Modi today assured voting rights to migrants from Bangladesh and restoring their honour, while holding "political blunders" responsible for their plight.
He also trained his guns at UPA Chairperson Sonia Gandhi, accusing her of doubting the patriotism of 125 crore citizens of India and misleading them on "so-called fulfilment of Congress poll promises".
"They (Cong) have not given voting rights to Indian citizens (in Assam). They have given it to people who come in from Bangladesh. Around two lakh such people are there in camps. Our dream is to give them rights. The Hindus who have come from Bangladesh are refugees. They are here because of their compulsions," Modi said during a public meeting.
"They have come here due to our political blunders. So it is our responsibility to give them respect and security. It is not that only Assam should take up this burden but the entire country should do it. We cannot push them out of the country," Modi said.
"Sonia came to Assam yesterday and deshbhakti ke dhol peet rahe the (beating the drums of patriotism). Do the poor and others have to learn about patriotism from Congress and Soniaji?", Modi asked.

"Will Soniaji now give certificates to 125 crore people on patriotism? Do we have to take tuitions from you (Sonia) on this. It is an insult to us to raise such an allegation'', he added.

"Soniaji, now that you have opened your mouth on such a sensitive issue, you have to give an answer to the people. The nation wants an answer. Don't dare to question the patriotism of the people and insult them", he said.
Sonia had claimed on Sunday in Assam that she does not indulge in "big talk" while the Congress makes no false promises and they promise what they can do.
Attacking the Congress for indulging in "vote bank politics", Modi said Assam has been ruined due to this and people working in the tea gardens too have the right to a good life.

"You bring a BJP government in Delhi and we will ensure that every poor will have a house. There will be no poor in this country who will not have shelter over their heads," Modi said.

"And it will not just be a home but will have a tap... the house will have water, electricity, proper sanitation facilities and will also have schools and hospitals for old and children nearby. We do not want a country where poor sleep on footpaths and that is why I have come to take your blessings," Modi said.
Attacking the Congress for not providing employment to the youth, he said that it was the first responsibility of the government to provide jobs but it had failed to do so.
On Sonia's claims that Congress makes no false promises, he said, "Sonia is fooling the people by just not throwing dust but also pepper into their eyes. Now pepper is being thrown in Parliament also."

"It is the responsibility of those in government to give an account of the work done for the people during the last ten years. They are, however, not ready to give an account as their arrogance has reached its zenith," he charged.

The 2009 Congress manifesto had promised that each member of family will be given a job and again in 2014 manifesto which "actually is a 'Dhokapatra' (a bluff document) they have promised employment to 10,000 crore youths".

"Has anybody been given a job? However, during the only six years tenure of A B Vajpayee, 6,500 crore youths were given job opportunities but during the last 10 years only 1.25 crore were given jobs," Modi claimed.

The BJP's prime ministerial candidate also played on the development agenda, saying if his party is voted to power, it will ensure shelter for every poor of the country.
Taking a jibe at the Congress, Modi said that earlier parties used to come together to oust the government but this elections, they are coming together and making schemes just to ensure that Modi does not come.

"Why are they (Congress) so frightened? They are so troubled because they know which place they will be after May 16," he said.
Noting that the 75th year of Indian Independence was approaching, Modi said all countrymen should remember the sacrifices made by martyrs.
He said despite the Supreme Court saying that there should be national registration, the government had failed to do so and also promised to do it when BJP comes to power.