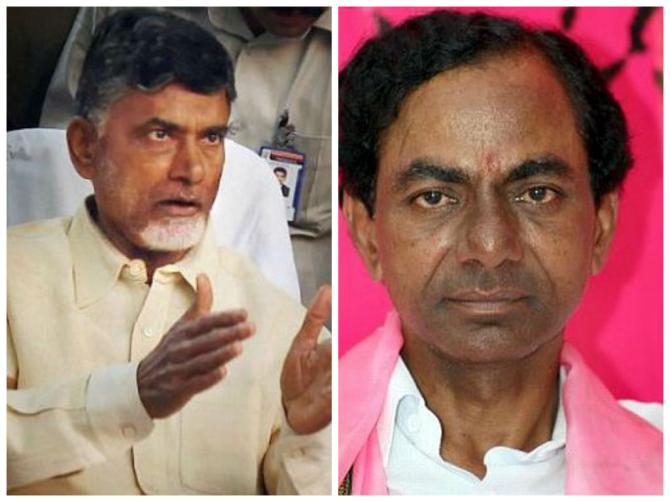 With the TRS and TDP on their way to achieving majority in Telangana and Andhra respectively, the results reveal that both the states will have non-coalition governments. Vicky Nanjappa reports.
The people of Andhra Pradesh can heave a big sigh of relief as they will be spared the horror of coalition governments in their states. The results are almost clear and they reveal that both Telangana and Andhra Pradesh will have non-coalition governments.
In Telangana, the odds are in favour of the Telangana Rashtra Samithi in the assembly polls and the party has already touched 60 seats, while in Andhra Pradesh, the Telugu Desam Party is all set to touch the magical number of 100.
Complete Coverage: Elections 2014
This means that Telangana's first chief minister would be K Chandrasekara Rao while tech-savvy Chandrababu Naidu will be Andhra's CM.
While the TRS and TDP can enjoy success, the Congress and the YSR Congress Party have been handed big defeats. The results clearly show that Jaganmohan Reddy could not capitalise on the initial wave and the votes swung in favour of the TDP at the last moment. The Congress must also be licking its wounds after its loss in Telangana. The party had expected to sweep the area after it played the crucial role in splitting the state.
Image: Chandrababu Naidu and K Chandrasekara Rao will become the new chief ministers in Andhra and Telangana.