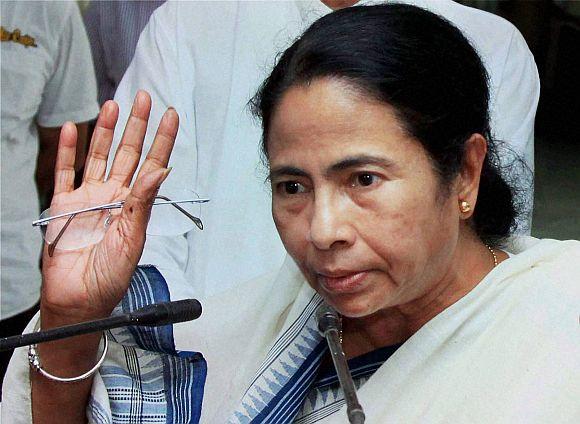 Trinamool Congress chief and West Bengal Chief Minister Mamata Banerjee on Thursday attacked the Congress alleging it was 'cocooned in fear' and did not have the guts to act against the Bharatiya Janata Party and said had she been in Delhi she would have sent Narendra Modi to jail.
"They (the Congress) have no guts. It is a party cocooned in fear. They survive through understanding and play got-up matches and indulge in match-fixing. Not a single word against Narendra Modi. It (Congress) is in head over heels in love with Modi," Banerjee, the Trinamool Congress chief, told an election rally in Murshidabad.
Special Coverage: Election 2014
"Had I been in Delhi in place of the Congress, I would have sent Modi to jail by tying a rope around his waist," she said hitting out again at the BJP prime ministerial candidate for his remark that illegal Bangladeshi immigrants would be sent packing after May 16.
"Had the Congress initially exerted pressure on the BJP, it would not have dared to talk so much now," Banerjee, the chief minister, said.
Stating that an impression was being created that Modi had already become the PM, she said "Before the birth of the child, the date of marriage that is of Modibabu, is fixed and also who would bride and bridegroom.
"It is due to the abetment of Congress and the Communist Party of India-Marxist. The Congress will form the bridegroom's retinue while the Revolutionary Socialist Party will follow the bride," she said.