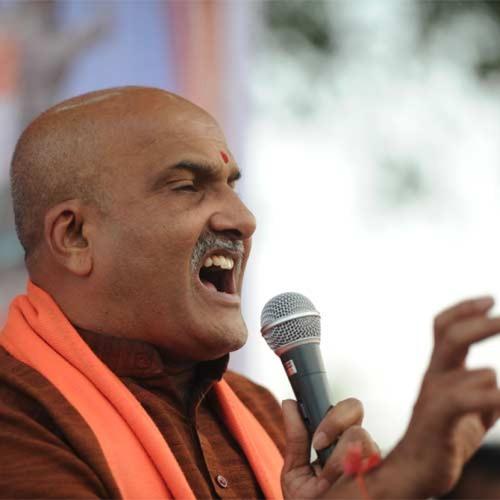 The Ram Sene chief is likely to dent the Hindutva vote bank in Dharwad, a party bastion in Karnataka, turn the tide in favour of the Congress. Vicky Nanjappa reports
Dumped by the Bharatiya Janata Party, Pramod Muthalik is doing all he can to avenge the insult. In the battle for Karnataka, the pub-attacking Ram Sene chief will fight from Dharwad and Bangalore South challenging the very same men who okayed his entry in the party, which lasted only for five hours.
BJP's national secretary Ananth Kumar seems to be unperturbed by Muthalik's threat, but Prahlad Joshi is an extremely worried man.
The jilted Ram Sene leader has given the Congress a reason to smile. He will do some damage to the BJP in Dharwad (a parliamentary seat which it has been winning for the past 18 years), but will make no difference in Bangalore South, Congress insiders told rediff.com.
He has no takers; voters will not opt for a controversial neta. He won't be able to dent the Hindu vote -- all of which is in Modi's favour.
The problem, however, is for BJP man Joshi, already a two-time winner from the constituency. He faces a tough challenged from Congress's Vinay Kulkarni, a Ligayat, who is also popular with the minority community. What makes matters worse for him is that a considerable number of youths from Dharwad subscribe to Hindutva propagated by Muthalik. Even if Muthalik gets a few thousand, it will directly benefit the Congress.
This was precisely why Joshi had backed Muthalik's entry into the BJP.
Muthalik's request to take him into the party fold had been turned down earlier. But when he threatened to contest as an independent, Joshi was quick to induct him in the party only to be disappointed by the central leadership, who stopped the Ram Sene chief's entry.
The BJP has now decided to adopt a fresh strategy for Dharwad; in Bangalore South they will stick to their plans. The Bangalore South campaign by Ananth Kumar has been all about Narendra Modi and the development in Gujarat. Members of the Ananth Kumar camp say that Muthalik has no impact in this constituency.
However, the BJP is now rethinking its Dharwad campaign, which was by and large about the party coming to power with Modi at its helm. To win over the young Hindu voters, Joshi will have to pursue the Hindutva issue more aggressively. He, however, would ensure that it does not go overboard as there are strict instructions from the BJP in Delhi not to play the communal card this election.

Image: Ram Sene chief Pramod Muthalik was shunted out within five hours of joining the BJP