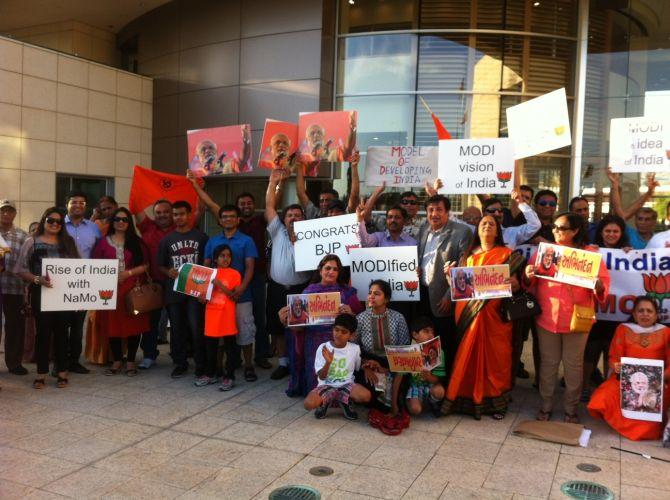 Ladoos, band, bajaa and chants took over California after NaMo supporters stepped out to celebrate his victory. Ritu Jha/Rediff.com reports.
Chants of 'Har Har Modi' and 'Vande Mataram' resounded in parts of California after Narendra Modi and the Bharatiya Janata Party won a thumping victory in India's general election.
The Indian Diaspora in California came alive on Friday celebrating the news by distributing ladoos to passersby and chanting slogans to praise Modi outside City Hall in Milpitas.
The area was flooded with people carrying placards reading 'ModiFied India', 'Rebirth of India', 'Bay Area Supports Modi' and the 'Rise of India with NaMo'.
NaMo supporters could not hold back their joy, some telling Rediff.com that the state of Gujarat had now given birth to three great leaders -- Mahatma Gandhi, Sardar Vallabhbhai Patel and now Narendra Modi.
"In my 64 years, I have never seen such a visionary person," Chandru Bhambhra, former president, Overseas Friends of the BJP, told Rediff.com "There are plenty of people who are more literate than him and we have seen many prime ministers, but his vision and his power to execute ideas is amazing."
"This is the person who can change India and we have faith in him. He has developed Gujarat and people have confidence in him. He will develop India in a much better way," adds Bhambhra. "He thinks much ahead of other people and people are expecting a lot from him."
Khanderao Kand, founder-president, Global Indian Technology Professionals of India, says, "We technological professionals are very happy that a development-oriented leader like Modi got such a decisive mandate. He eradicated corrupt, dynastic, caste and appeasement-driven politics that was ruining India."
Speaking of what they hope from Modi as prime minister, Kand says, "We pray that Modi will be able to spin the same magic he did in Gujarat at a national level. We expect infrastructural development, reforms in education and foster innovation. We expect him to modernise industry and infrastructure, as that is a top priority. We want this government to help India achieve a global role."
Also present at the victory celebrations were people from Sewa International USA and members of the Hindu Swayamsevak Sangh. "He has dedicated his life and being a pracharak of the Rashtriya Swayamsevak Sangh, he has learned to live a life of discipline," says Nitin Shroff, Sampark Pramukh, HSS, San Francisco Bay Area.
"We are sure he will create more jobs in India," says Yagnesh Pathak, a member of Sewa International. "He delivers whatever he promises."
Image: Modi supporters outside City Hall in Milpitas, California. Photograph: Riti Jha/Rediff.com