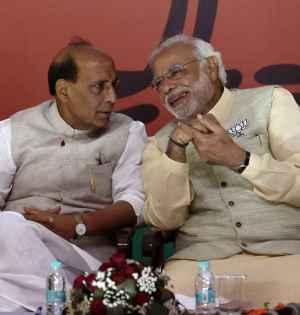 Consultations within the Bharatiya Janata Party on government formation gained momentum on Friday with Prime Minister-designate Narendra Modi holding a long meeting with party chief Rajnath Singh and other senior leaders.
Modi, who will be sworn in on May 26, remained closeted in Gujarat Bhawan for over four hours with Rajnath, Nitin Gadkari and Arun Jaitley. His confidante Amit Shah was also present but later left.
Sources say the discussions between the party's core decision-making group and Modi revolved around who could be part of Modi's Cabinet.
Preparations for Modi's swearing-in on Monday and the list of invitees for the big event were also discussed by top government officials, it is learnt.
Sources said while Modi has sought everyone's suggestions on Cabinet formation, he has kept the cards close to his chest. Party insiders said Modi is known to get inputs from a wide spectrum but he will take the final call.
NDA ally MDMK chief Vaiko also met Modi and urged him to reconsider the decision to invite Sri Lankan President Rajapaksa for the swearing-in. He wrote to Modi on Thursday in this regard.
Rajnath also held separate discussions with senior party leaders as well as with Rashtriya Swayamsevak Sangh leaders at his residence earlier in the day.
He also met allies -- Shiromani Akali Dal leaders Parkash Singh Badal and his son Sukhbir Badal. Akali Dal, one of the oldest BJP allies, hopes to land a berth in the Union Cabinet.
Senior party general secretaries Ramlal, Ananth Kumar and J P Nadda held separate meetings with Rashtrapati Bhawan officials to finalise the list of invitees and discuss the preparations for the swearing-in.
Significantly, RSS leader Ram Madhav also met Rajnath at his residence.
BJP intends to invite a total of 3,000 guests to witness Modi's coronation as prime minister, which include 1,500 invitees of the government and an equal number from the party.
While heads of states of various SAARC countries have been invited, others include all chief ministers, former Union ministers, leaders of various parties and members of the diplomatic corps in the capital.
Among the party invitees include all MPs and ex-MPs, ministers in BJP-ruled states and presidents of party units in states and UTs, besides all national executive members.
Modi landed in the capital on Thursday evening after handing over the chief ministership of Gujarat to loyalist Anandiben Patel.