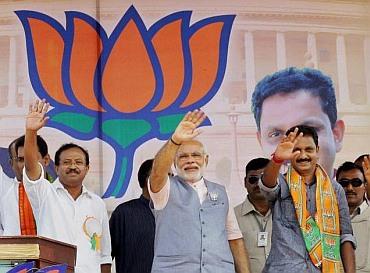 Bharatiya Janata Party chief Narendra Modi on Tuesday said that the land of tourism like Kerala has turned into "nursery of terrorism", as he accused the Congress-led government of ignoring the state's development agenda.
"Kerala had the potential to become a tourism hub but has been converted into a nursery of terrorism," the BJP Prime Ministerial candidate told an election rally in Kasaragod, the northern tip of Kerala, on the last day of campaign for the Lok Sabha elections in the state.
Modi also said Kerala had failed to capitalise on its potential in Medical Tourism and Ayurveda.
He said though Kerala was blessed with resources including tourism and ayurveda, its successive governments have squandered the opportunities forcing youth to leave the state in search of employment.

Youngsters are not getting employment opportunities in 'God's own country' and have to go to other countries in search of jobs while the greenery in the state is due to NRI remittances, he added.
Hitting out at both Congress-led United Democratic Front and the CPI-M-led Left Democratic Front, the Gujarat Chief Minister said both the Fronts are engaged in a "friendly match".

"The UDF comes to power for five years after which the LDF forms the government. Both the Fronts are silent on each others faults and omissions," he charged.
© Copyright 2021 PTI. All rights reserved. Republication or redistribution of PTI content, including by framing or similar means, is expressly prohibited without the prior written consent.