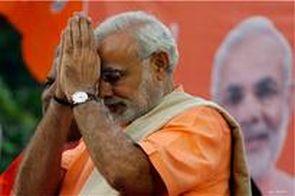 The BJP's prime ministerial candidate Narendra Modi on Wednesday said the country needed a servant and not a ruler. Calling him a sevak, Modi said that if voted to power he would serve the country.
"Desh ko sashak nahin sevak chahiye, main sashak nahin sevak ke rup mein seva karna chahta hoon," Modi said addressing an election rally in Bihar's Nawada Lok Sabha seat.
Modi said the people had given the Congress 60 years to rule and the party had destroyed the country. He said it was now time to vote for the BJP.
"Give me only seven months to serve you to solve the problems facing the country," he said.
He appealed to the people to vote for the BJP to help win all 40 Lok Sabha seats of Bihar to form a strong government in Delhi with over 300 seats.
He said Bihar's voters will contribute to make a strong government if BJP wins all the seats from the state.
Modi vowed to bring black money from foreign countries to India if the BJP led National Democratic Alliance government voted to power.
"If BJP led government is formed in Delhi, I promise you to bring back black money stashed abroad and use it in welfare schemes for the poor," Modi said.
Modi said the Congress led UPA government is not keen to bring back black money from foreign banks because they have vested interests. Modi urged the people to vote for the BJP to make a Congress free India. Congress has not fulfilled any promises made in the last Lok Sabha polls in. "Congress's manifesto is nothing but a dhokha-patr," he said.
Image: BJP prime ministerial candidate Narendra Modi