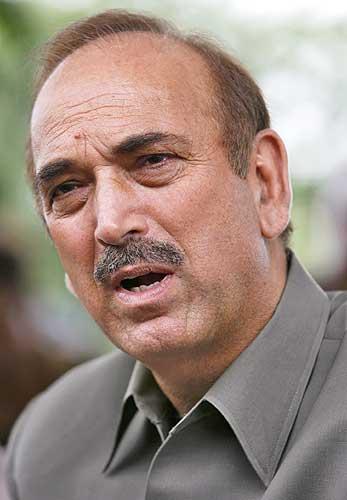 Union health minister, Ghulam Nabi Azad on Tuesday filed his nomination papers for the Udhampur-Doda parliamentary constituency. Azad was accompanied by state Chief Minister Omar Abdullah and state Congress president, Saif-ud-Din Soz besides a large number of his supporters.
Filing of nomination papers by Azad was accompanied by fanfare as he was taken to the office of the returning officer in Kathua town of Jammu region in a procession and a lot of sloganeering.
Azad, who is a native of the constituency, is contesting the upcoming Lok Sabha election from Udhampur-Doda for the first time. Addressing his supporters, Azad said, "There was no Modi wave in the country."
The opposition People's Democratic Party candidate, Arshad Malik also filed his nomination papers from the constituency. The main contest in the constituency would be between Azad and Bharatiya Janata Party candidate, Jitendra Singh.
Meanwhile the BJP's prime ministerial candidate, Narendra Modi is visiting Jammu on Wednesday and is scheduled to address an election meeting in the Hira Nagar town of Kathua district.