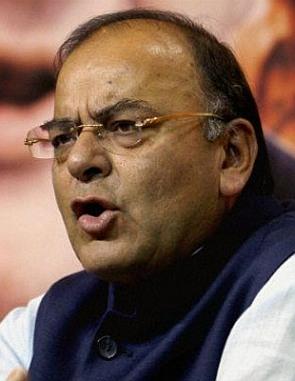 Bharatiya Janata Party candidate from Amritsar Lok Sabha constituency, Arun Jaitley on Monday took a swipe at the Congress party saying it is merely a crowd around a (Gandhi) family and it should be made a more structured party.

"The family charisma has faded away. But a party which is merely a crowd around a family probably felt that the current leader in the family has not clicked. The real solution to the problem is to make Congress a more structured party.

"The Congress party's solution is, if one incumbent in the family fails, the alternative can only be another member of the family," he said in a statement issued in Amritsar on Monday.
Referring to media reports that Congress chief ministers have been apparently told that they would be replaced if they do not win seats, Jaitley said "Congress appears to be getting more and more desperate."
If the media report is true then it "only confirms how far cut off from reality the Congress has been. The Gandhis are under siege," Jaitley said comparing the situation to the run up to the 1977 general elections.
"The problem is not with the Congress chief ministers. If the party loses, it is not because of its chief ministers. It is squarely because of the quality of government they ran and the non-inspirational personality of Rahul Gandhi. When the problem is within the family, why is the Congress looking for scapegoats outside?" he claimed.
In a veiled attack on Priyanka Gandhi, the senior BJP leader said, "The country now needs the myth of the other family member also to be exploded". He was referring to a media report which said that Priyanka wanted to challenge Narendra Modi for the Lok Sabha seat from Varanasi.

Priyanka, however, trashed the report stating it is a "personal" decision not to contest and that her family would "wholeheartedly support" her if she ever wanted to.
Taking on his rival candidate Congress' Amarinder Singh from Amritsar constituency, Jaitley said, "Captain Sahib has an unbeatable capacity to singularly lower the level of political discourse. In a civilised issue based election, he is a fish out of water."
He claimed there is an increasing desire being witnessed in Amritsar for Narendra Modi to be the country's next Prime Minister.
"I can also smell the positive attitude of the people towards me and the issues which we are raising. We must not deviate from this agenda," Jaitley said.
The Leader of Opposition in Rajya Sabha also took a dig at Amarinder for calling him an outsider.
"Unlike him, I have 100 per cent Majha blood in my veins. I had promised that this being my ancestral town, I will have a residential base here. I have implemented that promise. What about Captain himself? Will the people of Amritsar have to wait for days altogether outside his Patiala palace to meet him?" Jaitley added.