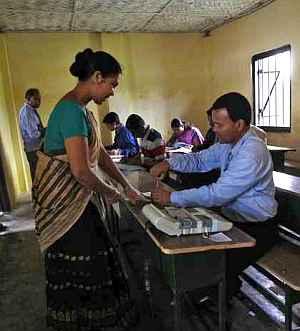 A high turnout of 85 per cent was recorded for one Lok Sabha seat in Tripura, while Assam registered 76 per cent in five seats in the first phase of the elections which began peacefully on Monday from the country's North East.
PHOTOS: World's biggest show of democracy begins
In Tripura, where election was held to the Tripura West Seat, Chief Electoral Officer, Asutosh Jindal said the 85 per cent of the electorate voted while polls were incident free.
Stating that there were long queues before 200 booths till 7:00 pm, Jindal said that complete computation was not possible.
"This percentage might rise again," he told reporters.

In Assam, 76 per cent of the electorate cast their votes with a large number of EVMs malfunctioning with repoll being considered in some places.
Tezpur recorded 75 per cent voting, Jorhat 76 per cent, Lakhimpur 76, Dibrugarh 70 and Kaliabor 80 per cent.

The turnout figure might rise with long queues before polling stations, EC officials said.
Re-polling might take place in some polling stations as the voting process stopped for some times due to problems in EVMs. A final decision would be taken by the Election Commission after getting a report from respective Returning Officers," Chief Election Officer Vijayendra said.

In Tripura, the electoral fates of 13 candidates, including CPI(M)'s Shankar Prasad Dutta, secretary of the state unit of CITU, Congress' Arunoday Saha, former vice-Chancellor of TripuraCentralUniversity, Sudhindra Dasgupta, BJP's state unit chief and Chairman of the state unit of TMC and former minister Ratan Chakraborty, were sealed in EVMs.
The CPI-M had won the Tripura West seat ten out of 15 times between 1952 and 2009. Since 1996 the CPI(M) had consistently won this seat.
In Assam, prominent among the 51 candidates were union ministers and Congress nominees Paban Singh Ghatowar (Dibrugarh) and Ranee Narah (Lakhimpur), besides former Union minister and sitting Congress MP Bijoy Krishna Handique (Jorhat).
Others were Chief Minister Tarun Gogoi's son Gaurav Gogoi (Koliabor), Congress rebel and Independent candidate Moni Kumar Subba and BJP state unit president Sabananda Sonowal (Lakhimpur).

In the 2009 Lok Sabha elections in the state, the Congress had won seven of the 14 seats, its alliance partner BPF one, BJP four and AIUDF one.
The seats for which polling was held during the day were Tezpur, Koliabor, Jorhat, Dibrugarh and Lakhimpur.
Assam Chief Minister Tarun Gogoi, his wife Dolly Gogoi and their son and Koliabor constituency Congress candidate Gaurav Gogoi cast their votes in Jorhat.
"There is no Modi magic, but Tarun Gogoi magic in Assam. Earlier, I had said we will win ten seats, but now I am sure the Congress will get more than that, he told reporters after casting his vote.

Speaking in the same vein, Tripura Chief Minister and CPI-M politburo member Manik Sarkar said "In reality there is no Modi wave in the country. It is actually the creation of the corporate media."
Four persons, including a woman, demanding to cast their vote early at a voting centre in Sarupathar Silonijan area of Kaliabor constituency in Assam, received minor injuries in a fracas with CRPF personnel, police sources said.

The state election office web cast the election process at each of the polling stations.
For the first time in the northeast region, all polling booths in the state were declared smoking-free.

In Agartala, Chief Electoral Officer, Ashutosh Jindal told reporters that the polls were incident free and barring a few complaints, EVMs functioned well and in case of minor problems they were either changed or repaired.
The next phase of the LS polls in Assam would be held on April 12 for three Lok Sabha seats of Karimganj (SC), Silchar and Autonomous District (ST).
Polling for the East Tripura (ST Reserve) seat would be held on the same day. There were two LS seats in the state.
Image: A woman gets her finger marked after voting at a polling station in Nakhrai village in Assam's Tinsukia district on Monday.
Photograph: Rupak De Chowdhuri/Reuters