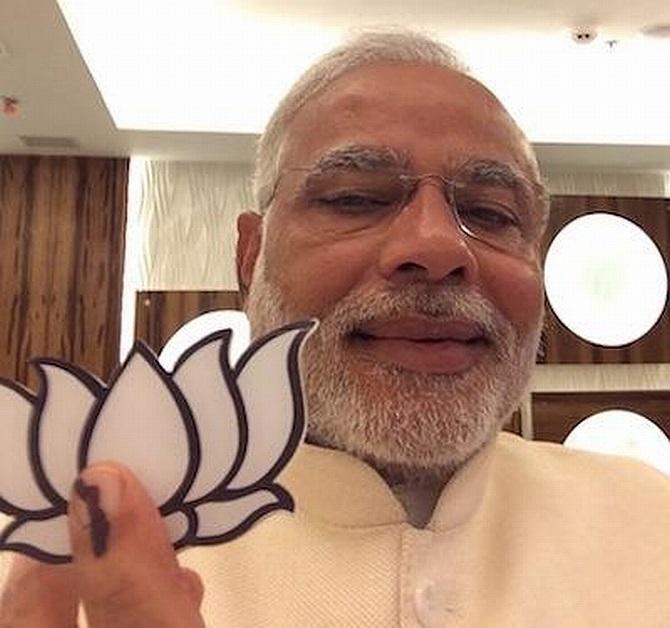 Nitish is resigned to his fate; Smriti's an unknown; Modi's weighty issues; Will Jaitley win? All this and more from the election battlefield.
Too bad the honourable Election Commission doesn't know marketing fundas, but maybe it could pick up cues from Narendra Modi?
The most footage on prime time television news and column space in the print media were slated for April 30, when Narendrabhai cast his vote in Gandhinagar.
Deed done, he had to show the uneducated, diehard, Congressmen and women all over India the finger, and that the 'Kamal' is his symbol. Mission accomplished!
***
Nitish throws in the towel
Lalu Yadav is on the prowl and will get more seats than Nitish Kumar goes the belief.
If, on the eve of polling, a political leader claims that he 'doesn't mind winning or losing, but he stands for principles' as Nitish has done, it's a sure sign of an expected defeat.
***
Power problems
Smriti Irani is discovering that her calling card, Saas Bhi Kabhi Bahu Thi, was not as big a hit in Amethi as it was in Kandivali, Mumbai, or Thane or Lajpatnagar, New Delhi.
Since the poor voters of Amethi have irregular power supply, they were not addicted to television's saas-bahu takkar and had no idea who the lady asking for their votes was.
Smriti, who became famous in urban north India playing Tulsi Virani on the telly soap, swallowed her pride and was forced to introduce herself to Amethi's voters.
***
Modi's weighty issues
This hectic campaign is enough for one to abandon a few kilos, but Narendra Modi has gained weight.
Lack of sleep, downing all those sandwiches (veggie, of course!) at irregular hours on chartered flights to and from Gandhinagar, and a lack of exercise are all proving weighty for someone so health and fitness-conscious as NowMore.
***
Will Jaitley?
Will Arun Jaitley win Amritsar or not?
He may, since the voters are not actually against him, only against his backers, the Akalis.
He may not, as he is unable to dissociate himself from the Akalis' accumulated sins in such a short time.
So, no one really knows the electoral fate of our one and only Arun Jaitley.