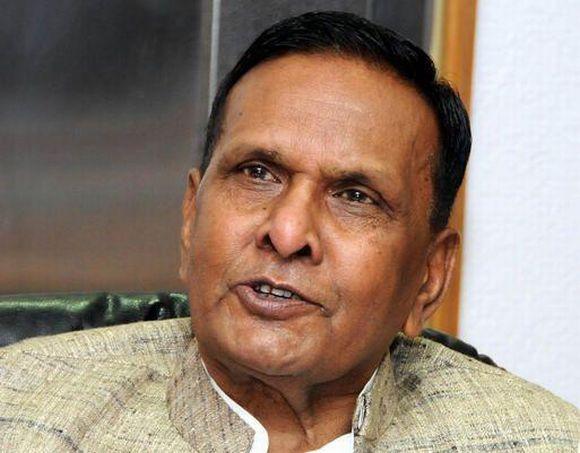 Expressing "serious concern" over repeated violation of the Model Code of Conduct by Union minister Beni Prasad Verma, the Election Commission on Thursday censured him for making "highly insulting" remarks against Narendra Modi while addressing an election rally in Kanpur.
Not satisfied with his reply to the show cause notice, the poll body "condemned" Verma and censured him for his statement.
Complete Coverage: Lok Sabha Election 2014
This is the second time the EC has found him guilty of violating the model code.
Earlier, the EC had expressed "displeasure" over Verma dubbing Modi as the "biggest goon" of RSS.
While censuring him, the Commission warned that in case of any further violation by the Congress leader, it may deny him permission to carry on with election campaign, besides taking other steps.
The poll panel said Verma had made "highly insulting" statement against BJP's PM pick Modi by calling him an "absconder after committing a serious crime at the age of 20 years" at an election meeting held at Kanpur on April 20.

"Now, therefore, the Commission, without prejudice to any other order/notice issued or to be issued in the matter relating to MCC violation by him, hereby, condemns the impugned statements made by Beni Prasad Verma.... and censures him for the... misconduct," the EC order said.
An FIR has already been registered against Verma in Balrampur for calling Modi the "biggest goonda" of RSS and party's President Rajnath Singh his "slave"
Verma had on April 1 stoked a controversy by dubbing Modi as the "biggest goonda" (goon) of RSS. "Modi could not have become Prime Ministerial candidate without the nod of Rajnath Singh. This proves that Rajnath Singh is not the president of the party but Modi's slave (ghulam)," Verma had said.
Complete Coverage: Lok Sabha Election 2014