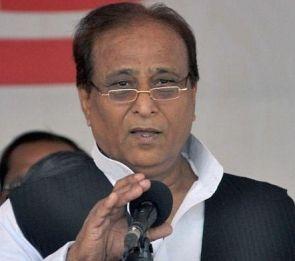 Expressing "deep concern", the Election Commission on Thursday issued a fresh show cause notice to Uttar Pradesh minister Mohd Azam Khan for reportedly making objectionable remarks against it and circumventing a ban imposed on him from campaigning in the state.
The show cause notice was issued to the senior Samajwadi Party leader days after the poll body banned him from campaigning in the state following his controversial 'Kargil' remarks.
He has been asked to respond to the charges by Friday evening, failing which the EC will take a decision without further reference to him.
The EC said it has noted with "deep concern" that despite the ban, Khan "persistently, continuously and wilfully" continued to violate the Model Code of Conduct.
It said the UP minister made provocative statements which can aggravate existing differences and create mutual hatred between communities at Sambhal, Rampur and Bijnor on April 9 and 10.
"...the Commission has received further reports/complaints that instead of complying with the EC Order, dated April 11, 2014, in right spirit, you made attempts to circumvent the said directions given in the aforesaid order by making an objectionable remark about ECI during a TV interview...on 13.04.2014 and by getting your objectionable speech read over by one of your party workers, in a recently held election meeting dated April 14, 2014 of Mulayam Singh Yadav," the EC notice said.
It said Khan has made "totally baseless and scurrilous allegations" against the Election Commission.
It noted that prima facie he has violated various provisions of the Model Code of Conduct.
Image: Uttar Pradesh minister Mohd Azam Khan