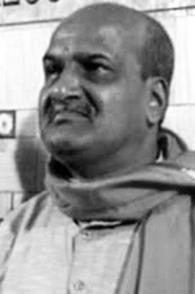 Discarded by the Bharatiya Janata Party within hours of his admission into the party, controversial chief of fringe right wing outfit Sri Ram Sene, Pramod Muthalik, on Tuesday announced he would contest the Lok Sabha polls against state saffron party chief Prahlad Joshi from Dharwad.
Making a no-holds-barred attack on the BJP and its leaders for setting aside his membership after the move on his entry backfired, a miffed Muthalik said he would contest as an independent and file his nomination.

Follow the latest election updates on Twitter: @RediffElections
"The BJP has humiliated me by canceling membership within few hours of my admission..it has hurt my supporters. I have waited for the BJP till this afternoon but I didn't get response from them (on taking him back). To uphold Hindutava and save Hindus, I will be contesting elections from Dharwad," he said.
The BJP had allowed Muthalik's entry into the party on Sunday but ejected him within hours after it came in for attack from within the party and its opponents.
Muthalik said he was also considering contesting from Bangalore South against BJP leader Ananth Kumar, whom he attacked severely accusing him of being corrupt and having "destroyed" the party in the state.
Slamming BJP President Rajnath Singh for action against him based "just" on the Mangalore pub attack, Muthalik said it only meant that he supported pub culture.
Muthalik accused the BJP of having "betrayed" the Hindus on the issues of constructing Ram temple at Ayodhya, Article 370 on the special status to Jammu and Kashmir and Common Civil Code. "The BJP is also now salivating for Muslim votes."
Blaming mainly "Ananth Kumar and company" for his plight, he said he would expose them soon with documents on corruption and other issues.
Muthalik said there was no question of his going back to the BJP and "there is no room for negotiations". He said he had apologised for the Mangalore pub attack by his outfit activists whose action was wrong but intent was good to "save our sisters from sex and drug racket". But the incident had been blown out of proportions, he said.
He said BJP's prime ministerial candidate Narendra Modi should have intervened on the issue of action against him.
Muthalik, who is facing 45 cases, including those relating to promoting enmity between two communities, was linked with the attack by his outfit activists on women in a Mangalore pub in 2009 that had sparked a national outrage.
Sri Ram Sene activists had barged into a pub in Mangalore and assaulted youngsters -- women and men -- accusing them of behaving in an "obscene manner".

Image: Sri Ram Sene chief Pramod Muthalik will contest from Dharwad