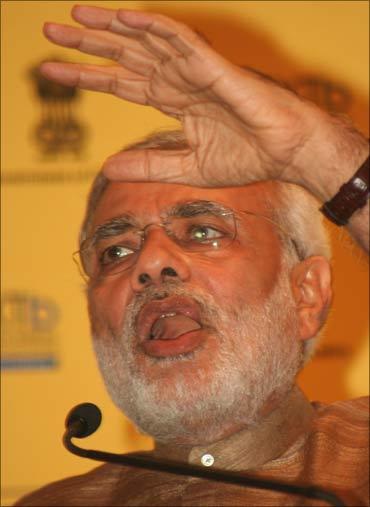 Escalating further the controversy over his interview to Doordarshan, Narendra Modi on Saturday rued the "decline" in journalistic freedom in the public broadcaster and invoked "horrific" memories of the Emergency days in 1975.
The Bharatiya Janata Party's prime ministerial candidate joined the war over Prasar Bharti editing out certain portions of his interview last Sunday and the subsequent raging controversy that it stoked by the "delayed" telecast.
"On days such as this, I feel very sad to see our national TV channel struggling to maintain its professional freedom," Modi said on Twitter while extending his wishes to journalists on the World Press Freedom Day observed on Saturday.
Modi did not forget to remind the people of the Emergency imposed by the late Indira Gandhi in 1975 when curbs were placed on the media.
"We have witnessed the horrors of Emergency when freedom of press and freedom of expression were suppressed. It is a blot on our democracy," Modi said in another tweet.
"Greetings to journalists friends on World Press Freedom Day. Free press is a democracy's cornerstone and must be preserved in letter and spirit," he said.
A controversy erupted yesterday following news reports that Modi had said that Priyanka Gandhi was like his daughter, remarks that were neither appreciated by her nor by Congress leaders. However, it turned out that Modi had not made any such description.
The other issue related to his remarks claiming closeness with Ahmed Patel, close aide of Sonia Gandhi. Patel issued a strong rebuttal of these claims. Modi's remarks on these subjects in the interview were edited out but became public through the social media.
While Congress leader Rashid Alvi said a "big fuss" was being made of the issue which relates to editorial freedom while some other commentators have accused both the BJP and the Congress of misusing Doordarshan whenever opportunities came.
Reacting to the controversy, Information and Broadcasting Minister Manish Tewari said, "My attention has been drawn to the news reports which have appeared in a section of the press with regard to Prasar Bharti. I had stated earlier to underscore and reiterate that the autonomy of the Prasar Bharti is guaranteed by an act of Parliament".
"Prasar Bharti is a board-run organisation and the I&B Ministry has an arm's length relationship with it. Infact on the question of autonomy, when I took over as the minister of I&B in October, 2012, it was on my initiative and the initiative of the then secretary in the ministry Uday Kumar Verma that the Sam Pitroda committee was constituted," he told reporters.
Prasar Bharti CEO Jawahar Sircar had on Friday attacked Tewari on the issue of autonomy for Prasar Bharti.
He had said the ministry lost an opportunity to convince a young minister to break the long traditional linkage between the ministry and the News Division which has continued unabated even after PB was born and assigned its distinct role in 1997.
The BJP also joined the criticism of Doordarshan and Information and Broadcasting Minister accusing them of suppressing facts in the conversation.
Reacting to the controversy, Alvi said it is not such a big issue as was sought to be made by BJP. The telecasting of an interview, its duration and other matters related to editorial freedom of the media.
"I don't want to name any channel. You (Modi) give your questions and give your answers. Why are you not making any big issue of that? All this is being done because of elections," Alvi said.
BJP leader Venkaiah Naidu said Prasar Bharti has become Congress "Prachar Bharti". "In the last eight years, they have blacked out Narendra Modi," he said.
Demanding a white paper on the last 100 days before elections in which details of how much coverage has been given to Congress leaders and Modi, he said it would bring out the extent of misuse of Prasar Bharti.
The Prasar Bharti CEO had to write to the board members because of this situation, he claimed.
Media personality Shahid Siddiqui said Prasar Bharti has been totally "exposed" by this episode but added that if tomorrow BJP-led NDA comes to power, again they will resort to the same misuse.
Yogendra Yadav, another media personality who contested the Lok Sabha elections on AAP ticket, said both Congress and BJP have been misusing Prasar Bharti and were not interested in giving autonomy to it.