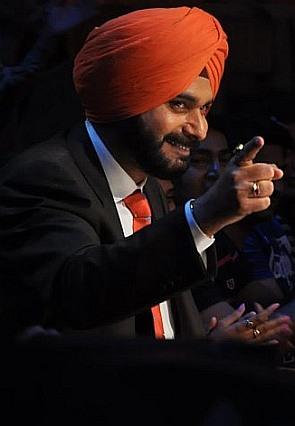 Did Amritsar MP Navjot Singh Sidhu pay the price for locking horns with National Democratic Alliance partner Shiromani Akali Dal?
Senior Bharatiya Janata Party sources said that the party decision to field Leader of Opposition in Rajya Sabha Arun Jaitley from Amritsar instead of sitting MP Sidhu could have come following apprehensions that the ruling SAD may not support the latter.

Sidhu had crossed swords with the SAD government in Punjab for allegedly "delaying" his pet projects.

He even threatened to go on an indefinite fast, forcing an embarrassed BJP top brass to broker a truce between him and Chief Minister Parkash Singh Badal.
Before that Sidhu's wife Dr Navjot Kaur, Chief Parliamentary Secretary, had hinted that the firebrand MP was feeling "suffocated" in the BJP and that he may quit politics.

Although the BJP was upset with Sidhu's wife for airing her differences in public, party chief Rajnath Singh had moved quickly to mollify the former cricketer who has won three times from Amritsar.
The SAD, meanwhile, was quick to welcome its alliance partner's decision to field Jaitley from Amritsar, and said that the latter would win the elections by a heavy margin.

But, reportedly, things are not all that hunky dory between the BJP and the Akalis either.

Sources said relations between the two had soured after the BJP turned down Akalis' demand for 3 seats in Delhi.