Party claims people in Mysore are very enthusiastic and are looking for a change, reports Gouri Satya.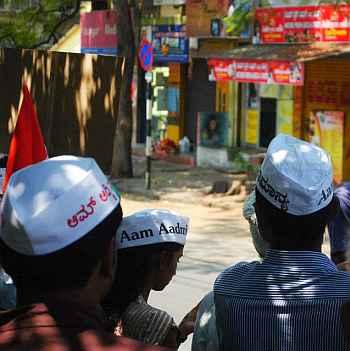 Like the two other candidates, Aam Aadmi Party candidate M V Padmamma too is a novice to the rough and tumble of elections.

The other two new faces contesting in the Mysore-Kodagu Parliamentary constituency are BJP's Pratap Simha, a columnist, and Justice Chandrasekharaiah of Janata Dal-Secular, a former judge. Unlike Padmamma, both Simha and Justice Chandrasekharaiah do not belong to Mysore.

When mentioned about Padmamma being new to elections, a lady campaigner retorted: "Yes, she is a novice to politics. But was not Sonia Gandhi a novice too when she entered politics? Initially, every politician is new to politics. It is only later that he gains in experience."

Not perturbed about being new to politics, the AAP candidate is actively campaigning along with an enthusiastic band of youngsters sporting the party's caps and holding the party symbol, the "broom".

Happy with the response from young and aged, the 59-year-old housewife tells Business Standard: "It is a great experience. It is really good and useful." An easy going and affable Padmamma, a retired State Bank of India deputy manager, adds: "The response is very good. A unique feature is that all sections are responding well, young and aged. They want a change, a new political system. They are fed up with the corrupt system. They want a clean system that can reach them. We must see to what extent our efforts will be successful."
AAP is facing both money crunch and an insufficient number of volunteers for the campaign work. Unlike the other three major parties, the Congress, BJP and JD(S), their's is not a big contingent of workers. Padmamma admits this factor and says: "People are voluntarily donating Rs 1 to Rs 100."

"Volunteers are coming on their own to help us in the campaign," says district convener MS Vinod and points to a woman, who has come from Hyderabad and is campaigning with them. "I have come from Hyderabad. I am voluntarily campaigning for Padmamma without any expectation," retired teacher Shashikala says.

Vinod too admits they do not have enough funds for the campaign. "Where is Rs 70 lakh? However, we are happy that the public response is very positive." Asked about campaigning in other constituencies, including Kodagu, he says AAP volunteers were engaged in this task.
"Our volunteers have been campaigning for the party for the last one-and-a-half months, even before the candidates' name was announced. Our teams are working in Kodagu and other constituencies. In the four Assembly constituencies in Mysore, we have done door-to-door campaigns and we are now here at the Devaraja Market to take advantage of the Ugadi-eve crowd."

"If we can only muster around 4,000 volunteers, we are confident of bagging this seat," he adds.

To boost their campaign, state AAP leaders, including veteran freedom fighter HS Doreswamy, are expected to visit Mysore during the week.
Image: AAP workers campaign in Mysore
Photograph courtesy: AAP/Facebook