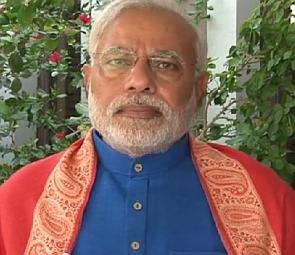 Narendra Modi stoked a controversy yet again on a polling day by releasing a video message seeking votes for the Bharatiya Janata Party, which an angry Congress decried as a violation of the electoral law and demanded that the Election Commission take action against him.
As polling was underway in 41 constituencies in the last phase, including Varanasi where he is contesting, the BJP prime ministerial candidate spoke about the Ganga-Jamuni tehzeeb of the holy city and appealed to the voters there to reflect its spirit of unity and harmony through their votes.
The Congress swiftly moved the EC demanding 0immediate action against Modi, saying, "His (Modi's) address to voters in Varanasi seeking votes for himself is a clear violation of the provisions of the Representation of People Act and the Model Code of Conduct."
But this is not the only time Modi has sparked controversy on polling day in the nine-phase elections.
Modi released the party manifesto on April 7, when the first round of polling was held, leading to protests from other parties and the issue also came under the EC scanner.
When polling was being held on April 24 in 117 Lok Sabha constituencies in the sixth phase, Modi held a massive roadshow in Varanasi before filing his nomination papers, which was beamed live by many TV channels.
He again stoked controversy when he cast his vote in Gandhinagar during polling in the seventh phase on April 30. Modi flashed the party symbol lotus after emerging from the polling booth and held a press conference, following which two first information reports were filed against him by the Gujarat police on the direction of the EC for alleged violation of electoral law.
Before that, Modi chose April 9, when polling was being held in the second phase, for filing nominations in Vadodara.
Invoking 'Maa Ganga" again in his video message on Monday, Modi said the aim should be to keep the rich tradition of the holy city alive.
"I appeal to people to cast their votes in the last phase of the polls with the same zeal and enthusiasm they have shown so far. My brothers and sisters in Kashi, the honour of Kashi is in peace, harmony and unity."
"This is what we call Ganga-Jamuni tehzeeb. It should also be reflected in polling. We are all one. We should love each other and take everybody along," he said.
The tech-savvy chief minister of Gujarat also used the message -- a You Tube link of which was posted online through his Twitter account -- to tick off the EC saying it should have deployed the central paramilitary forces in a large numbers in the last phase of Lok Sabha elections, he said.
"Today polling is being conducted in a very few seats...the Election Commission also knows very well that very few seats have to be elected in this phase, as it has worries about law and order situation. But for free and fair elections, mere worrying is not enough," Modi said.
"Polling is taking place in only 41 seats, instead of depending only upon the state police, the EC should deploy central security forces in large numbers to ensure healthy and peaceful polling," he said.
All India Congress Committee secretary and in-charge of the legal cell K C Mittal shot off a letter to CEC V S Sampath and other ECs, saying that Modi's address seeking votes in his favour on the day of polling is a clear violation of law. He said the social media has now been covered within the
MCC and his addressing the voters in Varanasi and other constituencies, where canvassing has been stopped from May 10 from 6 pm onwards, was a violation.
Congress leader and in-charge of AICC communication department Ajay Maken said on Twitter, "How can the channels show Modi's speech today in violation of the code of conduct? The Election Commission should take cognisance immediately."
Hailing the "vibrancy" of Indian democracy, Modi said the western world should analyse the success of Indian democracy. "The western world should also analyse Indian democracy, as to what is the reason why crores of people in this blistering heat are participating with such an enthusiasm in this elections," he said.
He said despite all the storm of "negative publicity" during the campaigning, people have shown enough wisdom to "tell right from the wrong".
Modi said though everyone has their likes and dislikes, they love their county and vote for its future and for the future of the youths.
"...and we should all contribute to make the fortune of this country," he said.
Modi said the heavy deployment of security forces in large number will be a good sign for ensuring healthy, clean and peaceful elections in the last phase.
However, he felt that the issues in the states, which witnessed assembly elections simultaneously, remained confined to their borders.
"Some (new) states are being formed, like Telangana and Seemandhra, they are emerging in new shape, but very few debates have taken place about them," he said.
"All have played a role on their (respective) levels (in ensuring successful elections). Some have laid down their lives. I feel proud as their services contributed to making democracy stronger," he said, congratulating every individual voter.

Image: A video message of BJP's PM candidate Narendra Modi was posted on YouTube
© Copyright 2022 PTI. All rights reserved. Republication or redistribution of PTI content, including by framing or similar means, is expressly prohibited without the prior written consent.