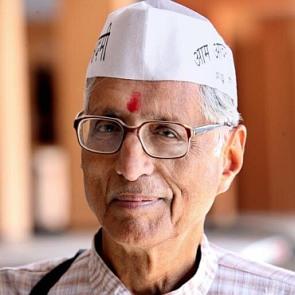 Rajmohan Gandhi first contested the Lok Sabha election in 1989, when the Congress faced an anti-incumbency wave. He is back 25 years later, this time with the Aam Aadmi Party and says he is more 'at home' and this is about serious commitment and not an experiment with politics.
One of the star candidates for the AAP, Rajmohan, 78, grandson of Mahatma Gandhi, is contesting from East Delhi. He is well known as a biographer, author and as research professor at leading Indian and American Universities.
Rajmohan spoke with rediff.com, sharing his thoughts on what ails East Delhi, the future of AAP and his plans for strengthening the party.
He says East Delhi is "about mountains of garbage, poor sanitation, water and all the daily hardships of the common man." He insists that after a 15-year Congress regime, the residents are going to vote for change.
"There are also national level issues, both the Congress and the Bharatiya Janata Party have failed to take a robust stand against corruption. AAP is the only party which has stoutly stood up for clean politics and the focus on candidates with clean background, with zero tolerance for violations," he adds.
Rajmohan dismisses as ridiculous the charges that he is an outsider in East Delhi. He says that he may not have been publicly involved in politics but he has been working for unity and cites the 'March on Wheels' which he led for a 'Clean, Strong and United India' from Kanyakumari to Delhi in 1963.
Armed with his experience as a biographer and with his stint as research professor, Rajmohan is confident that he has "enough experience and knowledge to find solutions to the enormous infrastructure problems of East Delhi."
Apart from his constituency, Rajmohan also elicits his thoughts for AAP. "On the national front, I am keen to work on strengthening the moral and intellectual ingredients of AAP. We need to create a stronger national framework."
Ask him about why he chose AAP, Rajmohan says "I have been following AAP movement and I believe it is the only party which is striving to bring into practice Gandhi's ideas of equality, clean society and fighting against corruption."
"I had the option of applauding AAP from the sidelines and I had a career so I wasn't looking for a career in politics. I chose to step in to be a part of AAP and this is a serious commitment and not an experiment with politics for me," he adds.
Gandhi is not a newcomer to politics, he contested against Rajiv Gandhi in Amethi in 1989 on a Janata Dal ticket and lost. He has also in the Rajya Sabha (1990–92) and led the Indian delegation to the UN Human Rights Commission in Geneva in 1990. In Parliament, he was the convener of the all-party joint committee of both houses addressing the condition of Scheduled Castes and Scheduled Tribes.
Are people of East Delhi also asking Gandhi about his memories and experiences with his grandfather? He says "some people ask and when there is time, I share from my experiences and memories of my grandfather. But we are focusing on the issues and problems of the constituency in the campaign right now."
He is confident that people of east Delhi will vote for change and adds the only challenge he faces is "the strong force of money power of both BJP and Congress".