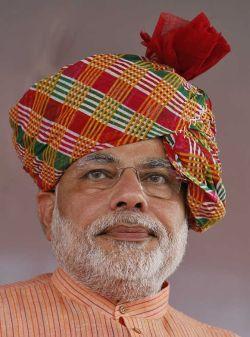 Raking up the snoopgate scandal allegedly involving Narendra Modi, the Congress on Monday wondered if women of the country would like to have a person like Modi in their households, who is known for his "anti-women attitude".
Referring to the controversial slogan,'Har-Har Modi, Ghar-Ghar Modi' (Modi in each home), party spokesperson Shobha Oza said, "I would like to ask the women, the daughters, the wives and the mothers of this country whether they would like to have in their households a person like Modi, who is known for his anti-women attitude.
"Modi who is yet to answer for the snoopgate, Modi who is known for his communal activities," she said. Noting that any communal activity hits the women worst, Oza asked whether the women of this country would approve of a person like Modi.
Raising the recent ticket distribution controversy involving senior Bharatiya Janata Party leaders such as L K Advani, Murli Manohar Joshi and Jaswant Singh, Oza said that the nation has now become BJP-free as hoardings of the main Opposition party has only Modi as face and no mention of the party.
"The BJP have many faces like Ravana. On one hand they are denying this slogan, on the other hand a Minister of Madhya Pradesh government Kailash Vijay Verghia says we does not care if public sentiments are hurt.
"In spite of the fact that Shankaracharya said that we should not compare Modi with the God, Vijay Verghia went on to add that since this slogan has become popular, they will use the same," Oza said regarding the slogan.
She also hit out at the BJP over the inclusion of Sri Ram Sene chief Pramod Muthalik in the party and alleged that people like him "are the real face of BJP". "Everyone knows what Muthalik is known for. The incidents of Mangalore are known to everyone and the way the women were treated and that how many cases he has against him.
"There were around 54 cases which the BJP government tried to withdraw when they were in power. The personalities like Pramod Muthalik are the real face of BJP.
"Actions of people like Muthaliks reflects the ideology of BJP or the RSS where they clearly try to be moral police the women folk of this country. This is what the ideology what they stand for and by taking a U-turn, they are just trying to put a mask on the real face. That is the mask that the BJP has been putting time and again to mislead this country," Oza said.
Taking a jibe at the internal war within BJP, she said "As Modi finished everyone within the BJP in Gujarat, the syndrome is now showing up in the national capital. "It is visible in the cases of Advani, Jaswant Singh, Joshi, Lalji Tandon and now the Leader of Opposition Sushma Swaraj as she has virtually become leader of opposition within her own party."