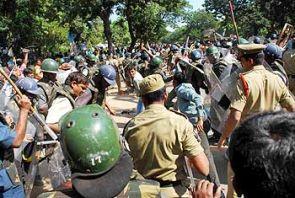 Commotion broke out today at the venue of a rally at Gaya in Bihar shortly before Bharatiya Janata Party prime ministerial candidate Narendra Modi was to address it prompting police to resort to a mild lathicharge.
The police action to restore order came after the crowd at the rally in Gandhi Maidan who had gathered for several hours became restive during which the wooden barricades were also broken.
A section of the crowd also barged into the media enclosure.
The people at the rally ran helter-skelter and flung chappals as policemen wielded lathis to control the crowd.
Police reinforcements were also rushed in.
The rally continued after BJP leaders appealed for peace and calm.
Modi flew into this pilgrim town in Bihar in a chopper to address the second rally in the state on Thursday after his address in Sasaram, where outgoing Lok Sabha Speaker Meira Kumar is the Congress candidate.
Modi had earlier in the day addressed a rally at Gumla in Jharkand.
The BJP prime ministerial candidate's previous rally in Gandhi Maidan in Patna on October 27 last was rocked by serial blasts minutes before he began his address.
A tight security cover was thrown at the rally after Maoists blew up two mobile towers exploding powerful bombs in two areas of Gaya district ahead of Modi's rallies.
About 100 Maoists gathered in the two areas and blew up two mobile towers of a private company by exploding powerful bombs at Manjhauli and Dumaria Bazar villages late last night, Gaya Superintendent of Police Nishant Tewari said.
The ultras have called a bandh in the Maoist-hit districts of south-central part of the state in protest against the killing of ten of their cadres in Chhatra recently.
"We have anticipated all types of threats from the Maoists and terrorists. Security arrangements are being made accordingly," Director General of Police Abhayanand said on Wednesday.
Image used for representation purpose only
Follow the latest election updates on Twitter: @RediffElections

© Copyright 2020 PTI. All rights reserved. Republication or redistribution of PTI content, including by framing or similar means, is expressly prohibited without the prior written consent.