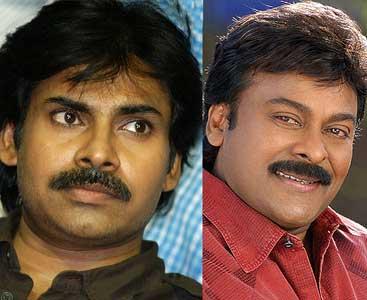 Union Minister K Chiranjeevi's youngest brother K Kalyan Kumar, alias Pavan Kalyan, is all set to launch his own political party IN Hyderabad on Friday.
Though not yet officially announced, the new party's name will be 'Jana Sena' or 'people's army', with a star as its logo, according to a party communique sent out to Pavan Kalyan's fan clubs in Andhra Pradesh.
Pavan Kalyan, who has acted in many blockbuster Telugu movies and carved out a unique image for himself, is scheduled to address the media here tomorrow evening to formally announce the launch of his political party, its name, symbol and other details.
Invitations have already been sent out to his fan clubs, while arrangements have been made in various cities and towns of Andhra Pradesh for a live telecast of the event. It is rumoured that Pavan would contest the Lok Sabha elections from Kakinada constituency in coastal Andhra, which is currently represented by Union HRD Minister M M Pallam Raju.
Pavan may also contest from Malkajgiri in Hyderabad, which is represented by Union Minister Sarvey Satyanarayana. When Chiranjeevi launched Praja Rajyam Party in 2008, Pavan headed its youth wing called Yuva Rajyam.
There have been reports that all is not well between the two brothers ever since Chiranjeevi merged his Praja Rajyam Party with the Congress, since Pavan was totally opposed to it. However, during the last few years, Pavan focused only on movies and his recent Telugu hits such as 'Gabbar Singh' (a remake of Dabbang) have ensured stardom for him in the Telugu matinee world.
Meanwhile, according to a party communique sent out to Pavan Kalyan fan clubs, a star would be Jana Sena's logo on a white background that signifies peace and stability, while red colour would signify revolution.