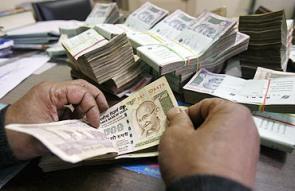 Bookies are betting big this election. In Andhra Pradesh, the stakes have touched nearly Rs 10,000 crore over who would form the government in Telangana and Andhra Pradesh (Seema-Andhra).
In 2009, the stakes had barely touched Rs 1000 crore in favour of a Congress government

According to two bookies with whom rediff.com talked, two weeks back all the odds in Seema-Andhra were in favour of a Jagan Mohan Reddy government. Bets worth Rs 20,000 were being placed on Jagan winning 120 seats.

However, today, the odds have completely changed with bets on a TDP-BJP government drawing between Rs 10,000 to Rs 20,000. The punters are giving the TDP-BJP between 95 and 110 seats.

Jagan's seat tally is expected to be 83 seats, the bookies said, adding that the numbers titled heavily since the last phase of the campaign and following the results of the recent local body polls.

He, however, points out that smaller bets -- between Rs 2,000 and Rs 5,000 -- are still being placed in Jagan's favour.

There are also bets ranging between Rs 15,000 and Rs 20,000 about a possible whitewash for the Congress in Seema-Andhra.
In Telangana, all odds are in favour of the Telangana Rashtra Samithi.

Eighty per cent have placed bets in favour of a clean sweep for the TRS while 15 per cent are predicting a hung verdict. The rest are betting on a Congress government.
The bookies said that the stakes are not very high for the Lok Sabha segment.

There are very few takers for this segment, as the interest is more at the state level.