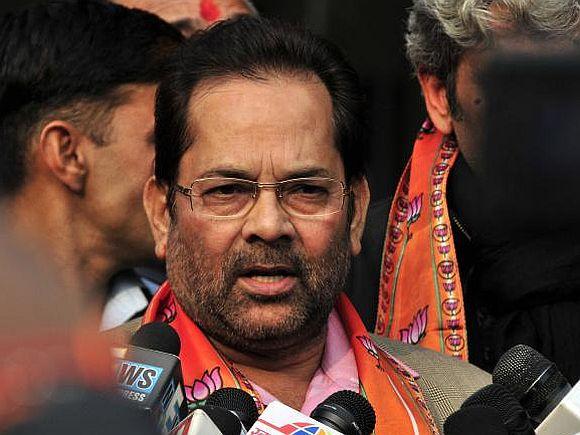 Accusing Union Ministers Beni Prasad Verma and Kapil Sibal of vitiating the election campaign, the Bharatiya Janata Party on Tuesday approached the Election Commission seeking strong action against them for making "baseless" allegations against its leaders.
A BJP delegation, which met Chief Election Commissioner VS Sampath and Election Commissioners HS Brahma and Nasim Zaidi here, also demanded deployment of adequate central forces in districts of Uttar Pradesh, fearing massive rigging by the Congress and the Samajwadi Party. "The way Sibal made allegations in his press conference on Monday, it is the violation of the model code of conduct. He made baseless allegations against Modi and Amit Shah.
Similarly, Verma has also violated model code of conduct," BJP vice-president Mukhtar Abbas Naqvi said after meeting the EC.\
Naqvi said, "It was an attempt to create fear psychosis in voters' mind. We have drawn the EC's attention to it and sought strict action against Verma, Sibal and other leaders who have flouted rules."
He said senior Congress leaders are continuously using foul and abusive language and targeting Modi in an organised way. "They are trying to make allegations at a personal level. Someone is trying to cut Modi into pieces, someone is speaking about killing and burying him. Some are even saying he is Hitler and Idi Amin. We complained to the EC," he said.
He further said "Most of the time the Congress leaders are making such charges. Since Congress is not ready to fight elections on issues, so it is trying to use such languages to vitiate the peaceful atmosphere during the election."
Voicing fears about booth capturing in UP, Naqvi said, "It is sensitive state and we are apprehending that both the Congress and the SP together are trying to do booth capturing in a big way in four constituencies -- Mainpuri, Etawah, Ferozabad and Kannauj".
"There are reports that SP along with Congress will try to instigate violence during polling in these four seats. Central forces should be adequately deployed in these areas," he said.
The BJP has also sought a ban on appointments made in the government. "We have also drawn EC attention to some appointments made by the outgoing government such as Advisor to the financial secretary, some appointments related to Defence, and the process for appointing Lok Pal has also been started," he said.
The BJP also drew the attention of the EC to the "unavailability" of postal ballots. "There are complaints that some voters staying in far flung areas have not received postal ballots. EC should ensure that they get them on time so that voters can exercise their rights," he said.
Asked about the response of the EC, Naqvi said they have "assured us that they will take suitable action after examining the complaints".
Special Coverage: Election 2014