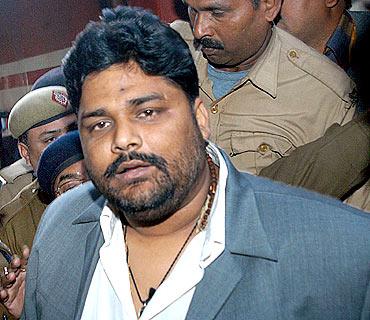 The Bhartiya Janata Party along with the Lok Janshakti Party are all set to fight a pitched political battle against the ruling Janata Dal-United and also the Congress and Rashtriya Janata Dal combine in Bihar. But there's one thing in common between the five major parties of the state -- all of them have fielded bahubalis, criminal-turned-politicians and their wives in the upcoming Lok Sabha election.
Over a dozen candidates with either criminal records or their wives will seek the people's mandate in Bihar's six phase Lok Sabha polls.
The BJP, in high spirits over the 'Modi wave', hasn't really delivered on its promise to clean up politics in Bihar as it has fielded bahubalis like Nityanand Rai from Ujiyarpur and Satish Chand Dubey from the Valmikinagar seat. The charges against the two include extortion, kidnapping and murder.

The BJP has also fielded Rama Devi -- wife of Brij Bihari Prasad, a well-known bahubali, who was killed by rivals over a decade ago -- from the Sheohar seat. Last year the owner of a sugar factory has alleged that Rama Devi demanded Rs 5 lakh from him for BJP prime ministerial candidate Narendra Modi's Hoonkar rally in Patna on October 27.
Similarly, former Union minister Ramvilas Paswan's LJP, which recently re-aligned with the BJP-led NDA, has fielded former legislator Rama Singh, a criminal-turned-politician, from the Vaishali seat. The well known bahubali is in the fray against RJD candidate Raghuvansh Prasad Singh, a former Union minister.

The LJP has also fielded Veena Devi, wife of former MP and criminal-turned-politician Suraj Bhan Singh, from the Munger seat.

Bihar's ruling Janata Dal-United has also fielded its bahubali legislator Manoranjan Kumar Singh alias Dhumal Singh against RJD's Prabhunath Singh from Maharajganj. The JD-U has fielded another bahubali Manoj Singh from the Siwan seat.

Rajesh Ranjan, alias Pappu Yadav, the former MP who was acquitted last year in the murder of CPI-M leader Ajit Sarkar in 1998, joined the RJD early March and is contesting the Lok Sabha polls as a party candidate from Madhepura, and is pitted against JD-U chief Sharad Yadav.
Pappu Yadav thrice won the Lok Sabha polls from Purnia -- 1991, 1996 and 1999 -- and once from Madhepura (2004). Last year, citing lack of evidence, the Patna high court acquitted Pappu Yadav in the murder case.

Another bahubali in the fray is Prabhunath Singh, who is the RJD candidate and sitting MP from Maharajganj seat.

Former Union minister Mohammad Taslimuddin, who faces several criminal cases, is contesting as the RJD candidate from the Araria seat. He is believed to wield influence, especially among Muslims, in Kishanganj, Purnia and Araria districts, also known as the Seemanchal belt.

Infact RJD tops the list with bahubali candidates in the fray. They are Surender Yadav from the Jehanabad seat, Rajballabh Yadav from Nawada seat.

The RJD has also fielded Hina Sahab, wife of jailed bahubali Mohammad Shahabuddin, and Krishna Yadav, wife of another bahubali Ranvir Yadav.

Lovely Anand, the wife of former MP Anand Mohan, a criminal-turned-politician who is in jail, is contesting from Sheohar seat as a Samajwadi party candidate.
Anand Mohan was convicted for inciting a mob that lynched to death Gopalganj District Magistrate G Krishnaiyah in 1994. Anand Mohan's sentence was commuted to life imprisonment by the Patna high court. Lovely Anand is banking on her Rajput votes to win the seat.
The Congress has also fielded Pappu's wife and former MP, Ranjita Ranjan, from the Supaul parliamentary seat.
Image: Pappu Yadav, whop was acquitted by the Patna high court in a murder case, is contesting on an RJD ticket from Madhepura.