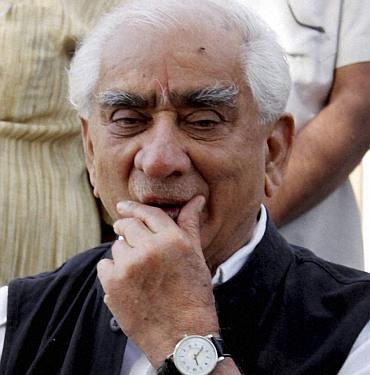 Stepping up his attack on Narendra Modi, Bharatiya Janata Party rebel Jaswant Singh on Tuesday said "personality cult" was not good in a democracy and it would harm the party.
"The way the party is focusing on one person is not correct. This cannot work in a democracy," he said a day after he filed his nomination as an Independent from Barmer Lok Sabha constituency.
The 76-year-old BJP veteran was asked what he thought of the campaign in the current Lok Sabha elections by his party, which used to seek votes in the name of the organisation but was now doing it in the name of Modi.
Singh accused party president Rajnath Singh of "deliberately" sidelining him and said it was for the BJP to expel him if it wants.
"Rajnath Singh has sidelined me probably under some plan. I have been betrayed and insulted. I am very much disappointed but I have not quit the party and I am not willing to do that."
"This is the second time I have been betrayed by the party and this is not tolerable. I am left in the lurch, but I have faith in God," Singh told PTI.
"I have not quit the party and will not. It is for the party to decide," he said, hinting that they were free to expel him.
The veteran leader said that nobody from the party, either from Delhi or Jaipur, contacted him after he filed nomination papers on Monday.
Singh decided to contest the Lok Sabha elections as an Independent after the BJP fielded former Congress MLA Sonaram Chowdhry, who joined the BJP last week, from the Barmer seat.
Singh said that the manner in which things are happening in the party were against the BJP principles and said the party has been encroached by elements who never have any respect of party's ideology and principles.
When asked why Rajasthan Chief Minister Vasundhara Raje was against him, Singh said it was up to her to comment. "I can say that I recommended her name for the chief ministership when I was travelling with the party leaders Atal Bihari Vajyapee and L K Advani," he said, adding the suggestion was also seconded by former Vice President Bhairon Singh Shekhawat.
After filing his nomination from the Barmer constituency, the former Union minister had on Monday made a veiled attack on Modi, saying the "Namo-Namo tamasha" and the decision-making process in the BJP shows the "arrogance" of the Emergency era.
"The Namo-Namo tamasha, the decision-making process (in the BJP) reminds me of 1975. There is more of arrogance and less of taking everyone along," Singh had said.
The former Union minister had said that he had informed L K Advani almost 18 months back of his wish to contest his last election from hometown Barmer and then told Rajnath Singh and L K Advani a few weeks back.
Singh's earlier three terms in Lok Sabha have been from Jodhpur, Chittorgarh (Rajasthan) and Darjeeling (West Bengal).
Meanwhile, contradicting his party colleague Sushma Swaraj, BJP president Rajnath Singh suggested that Singh was denied ticket from Barmer after the
central election committee discussed the issue and that the step was taken due to certain "political compulsions".
Rajnath said Singh could not be nominated despite "everyone" wanting and all senior party leaders, including himself, were also "pained" by this decision.
He said, "Extraordinary decisions are taken in extraordinary situations" but refused to elaborate. "Even while desiring from the depth of our hearts, it was not possible for us to give ticket to Jaswant Singhji from Barmer," Rajnath Singh told Times Now.
He acknowledged that Singh had told him about his desire to contest from Barmer and that he had told him that he will discuss the issue with the Rajasthan unit of the BJP.
"I talked to everyone. Everyone respects him. But there were certain political compulsions because of which the ticket could not be given to him," Rajnath Singh said.
When referred to Swaraj's statement that the issue of nomination from Barmer was not decided by the CEC, the BJP chief refused to go into specifics, merely saying, "Rajasthan issue was discussed in the CEC... All seats of Rajasthan were discussed in CEC."

Image: Veteran leader Jaswant Singh has been miffed with the party after he was denied a ticket from Barmer