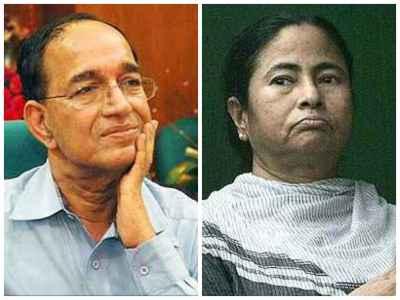 Complying with the Election Commission's order, the West Bengal government on Wednesday removed seven officials from their existing posts and replaced them with different officials as desired by the poll panel. "Yes, we have executed the EC order on Wednesday and a letter in this regard has already been sent to the C", state Home Secretary Basudeb Banerjee told PTI.
The EC had directed the state Chief Secretary Sanjay Mitra to execute the order by 10.00 AM today. After breathing fire, the Mamata Banerjee government buckled under unrelenting pressure on Tuesday night and agreed to transfer seven top officials as the Election Commission put its foot down and gave an ultimatum for complying with its order by Wednesday morning.
The removed SPs included R K Yadav of Malda, Humayun Kabir of Murshidabad, S M H Mirza of Burdwan, Bharati Ghosh of West Midnapore and Jhargram police district (Dual charge) and Sanjay Bansal, DM, North 24 Paraganas.
According to the EC directive Rupesh Kumar would take over as SP Malda district, Syed Waquar Raja as SP Murshidabad, Miraj Khalid as SP Burdwan, Rashid Munir Khan as SP Birbhum and Sisram Jhajoria will take over as SP West Midnapore district.
The EC also ordered transfer of Birbhum SP Alok Rajoria, who has been asked to take over as SP of Jhargram police district. State Health Secretary Onkar Singh Meena has been given the responsibility as DM of North 24-Parganas district in place of Sanjay Bansal.
Apart from this, ADM West Midnapore district Arindam Dutta and returning officer of Mathurapur parliamentary constituency Alokesh Prasad Roy have also been removed from their present posts as ordered by the Commission.
The EC has also directed that the state government could give posting to the removed officials in non-election related posts with necessary intimation to the EC.