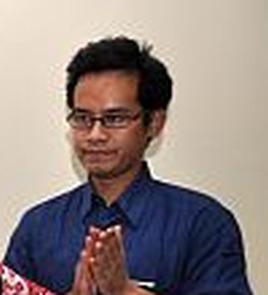 Even as his 79-year-old father is counting his days in active politics after a very long innings, Gaurav Gogoi, son of Assam Chief Minister Tarun Gogoi is now all set to take a plunge in electoral politics. Gaurav has been nominated by the Congress party to contest Lok Sabha election from Kaliabor constituency in Assam.

The Congress leadership who has remained grateful to the Assam chief minister not only for reviving the party's fortunes in Assam but also winning three consecutive assembly elections in since 2001, has fielded Gaurav, 31, from the Kaliabor constituency which is virtually a fiefdom of the Gogoi family, given that it was earlier represented by his father on more than one occasion.

His uncle Dip Gogoi is the sitting member of Parliament from there.

Besides Gaurav, the Congress has nominated sitting Member of Legislative Assembly Sushmita Deb, daughter of veteran Congress leader and former Union minister Santosh Mohan Deb and Manas Bora, son of Assam'Social Welfare Minister Akon Bora to contest Lok Sabha polls from Silchar and Guwahati constituencies respectively.

Gaurav, an engineer-turned- development activist-turned politician, had his first brush with electoral politics during 2011 assembly election in Assam when his father engaged him to take care of electioneering in Titabor legislative assembly Constituency which is represented by the senior Gogoi in the Assam assembly.

Gurav was born to a family of politicians in 1982 when his father was already an MP in Lok Sabha from Assam. Tarun Gogoi became a Union minister when Gaurav was 11, and chief minister of Assam in 2001 when Gaurav was 19.

He
went to the St Columbus School in Delhi. He went to US in 2008 to study public administration and acquired a degree from New York University. He worked for a brief period as policy aide with the Permanent Mission of India to the United Nations in New York.
Before that he left his job with Airtel in 2005 to join a Delhi-based Non-Government Organisation called
Pravah
that "works with young people to impact issues of social justice through youth citizenship action".
For the NGO, he worked in rural areas of Rajasthan, Madhya Pradesh and Uttarakhand. The work involved designing and facilitating experimental educational programmes on livelihood generation, organic farming, water management and social disparities.
The Congress is contesting 13 seats out of total 14 in Lok Sabha polls in Assam. The party is not fielding any candidate in Kokrajhar parliamentary constituency in favour of its ally Bodoland People's Front.
The party has so far declared 10 of its nominees. Besides Gaurav Gogoi, Sushmita and Manas, the rest seven nominees are Union Minister Paban Singh Ghatowar (Dibrugarh), former Union minister and Bijoy Krishna Handique (sitting MP from Jorhat), Bhupen Bora (sitting MLA from Tezpur), Union minister Ranee Narah (Lakhimpur), Lalit Mohan Suklabaidya (sitting MP from Karimganj), Biren Singh Engti (sitting MP from Diphu), Ismail Hussain (sitting MP from Barpeta).
Candidates for Dhubri, Nagaon and Mangaldoi constituencies are yet to be finalised by the party.