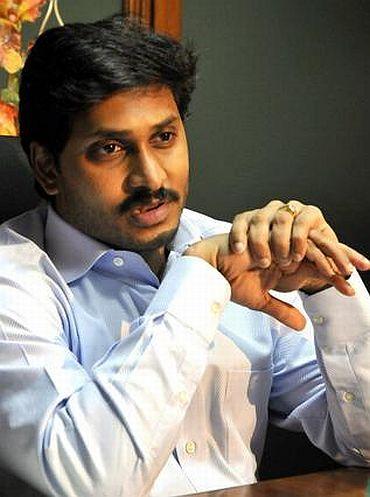 With its alliance with the Telugu Desam Party running into troubled waters, the Bharatiya Janata Party is keeping its options open in the Seema-Andhra region and even considering seeking support from the YSR Congress post polls.
A senior BJP leader told Rediff.com that the alliance would be on the similar lines of that in Uttar Pradesh where both the Samajwadi Party and the Bahujan Samaj Party extended support to the United Progressive Alliance.
The issue arose after TDP chief Chandrababu Naidu told his party workers through a tele-conference that the BJP had fielded bad candidates in the Seema-Andhra assembly segment. "They are not even capable of winning a ward election," Naidu is believed to have said adding that the alliance was proving to be a mistake.
However, the BJP says the problems could be sorted out in a day's time. "He had the upper hand in the seat-sharing formula and gave us seats where he could not have won anyway," said a BJP leader on the condition of anonymity. "It is up to him. If not him, there are other options available," the BJP leader added.
But some sources in the BJP added that if the alliance did break and if they needed the numbers, they could rely on Jaganmohan Reddy, as the latter would want to have a share in the power pie.
However, for now the BJP is hoping to iron out the differences with the TDP, as they still viewed TDP as a valuable ally.
Image: YSR Congress chief Jaganmohan Reddy could be a new ally of the BJP.