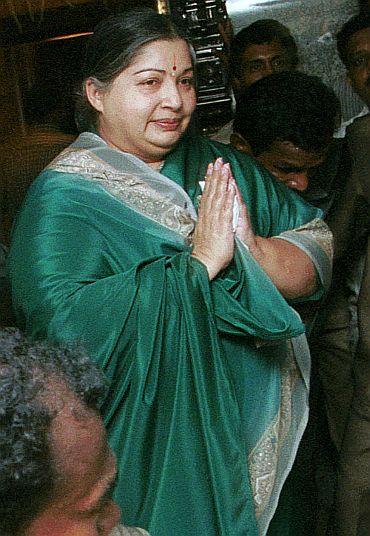 In an unprecedented dismal show, M Karunanidhi-led Dravida Munnettra Kazhagam on Friday headed for a rout in Tamil Nadu as its arch rival All India Anna Dravida Munnetra Kazhagam was well set for a clean sweep, surging ahead in 35 seats out of 39 seats.
The spectacular performance by Chief Minister J Jayalalithaa's party also decimated a deserted Congress and shattered what was described as a 'formidable' six-party alliance stitched by the Bharatiya Janata Party to gain foothold in this southern state.
The outcome of the election was the worst ever for DMK after 1998 when it had won five seats when the party-led United Front ended up with a tally of nine facing crushing defeat at the hands of AIADMK-led NDA that scored 30 seats.
Complete Coverage: Elections 2014
DMK bigwigs and 2G accused Dayanidhi Maran (Central Chennai) and A Raja (Nilgiris-SC) and T R Baalu (Thanjavur) conceded enough ground to their AIADMK rivals, virtually ruling out a comeback in the subsequent rounds of counting.
DMK was aiming to convert a perceived anti-incumbency into votes in the backdrop of power cuts and drinking water shortage but it was 'Amma' all the way. According to counting trends available for 37 seats at 12 noon, AIADMK was leading in 35 seats including those perceived to be DMK turfs while BJP was ahead in one constituency.
Congress, forced to face polls alone with no takers for an alliance, put up some semblance of fight only in Kanyakumari where the fortunes fluctuated between it and BJP before the saffron party shot into the lead.
Putting up a brave face in the wake of total annihilation of his party, DMK chief M Karunanidhi vowed to continue to work to win people's confidence as he greeted BJP and its prime ministerial candidate Narendra Modi on its 'big win'. "I extend my greetings and that of DMK to BJP and Narendra Modi, who is going to take over as the prime minister, for the big win across India," he said in a statement.