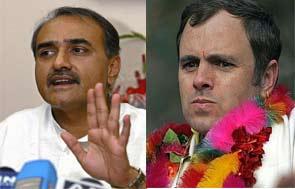 Differences in United Progressive Alliance over the issue of an inquiry into 'snoopgate' allegedly involving Gujarat Chief Minister Narendra Modi came to the fore with the Nationalist Congress Party and National Conference opposing such a probe.
"When the results of the Lok Sabha elections are due in two weeks time, where is the need for such an enquiry," NCP leader and Union minister Praful Patel told PTI.
Patel said that party chief Sharad Pawar has talked to Prime Minister Manmohan Singh earlier in the day to convey the party's view in the matter. The NCP is the second largest constituent of the Congress-led UPA.
Jammu and Kashmir Chief Minister Omar Abdullah termed as "wrong" the Centre's announcement for setting up a judicial commission to probe the snoopgate issue allegedly involving Modi.

Special Coverage: Election 2014
Omar, whose NC is a part of the UPA, said his father, Union Minister Farooq Abdullah, also felt the same way about the announcement.
"Was talking to my dad last night and he felt the same way -- setting up a commission of inquiry in the dying hours of UPA 2 is just wrong," Omar tweeted.
The chief minister said the decision should have been implemented when it was taken in December.
"If the decision to appoint a commission was taken in December, it should have been implemented. To appoint a judge five months later is wrong," he said.
The NCP stand came a day after Law Minister and Congress leader Kapil Sibal said that the government plans to name a judge for the inquiry before counting of votes for the general elections scheduled on May 16.
It was alleged that illegal surveillance was carried out on a young woman in Gujarat in 2009 at the behest of Modi. Amit Shah was the home minister of the state at that time.
The UPA government had decided four months back to set up the inquiry commission but the process got delayed reportedly because of its inability to find a judge, who was ready to take the task.
Defending the Centre's move, Sibal had asked why it was being questioned when the Modi government itself had set up a probe panel into the issue, showing that there was something to be investigated. He had also said that the state government's probe panel, which was supposed to give its report within three months, has not held a single meeting till date.
Another Congress leader Abhishek Manu Singvi has also backed his party's decision to name a judge before May 16 and said that the 'snoopgate' probe was not personal but a matter of public interest.
The Bharatiya Janata Party has accused the Congress of laying down an "agenda of confrontation" and suggested that it will be "reciprocated" once the saffron party comes to power.

Image: NCP leader Praful Patel and NC leader Omar Abdullah