Patrick Ward provides a country-wise break of AAP's overseas campaign contributions.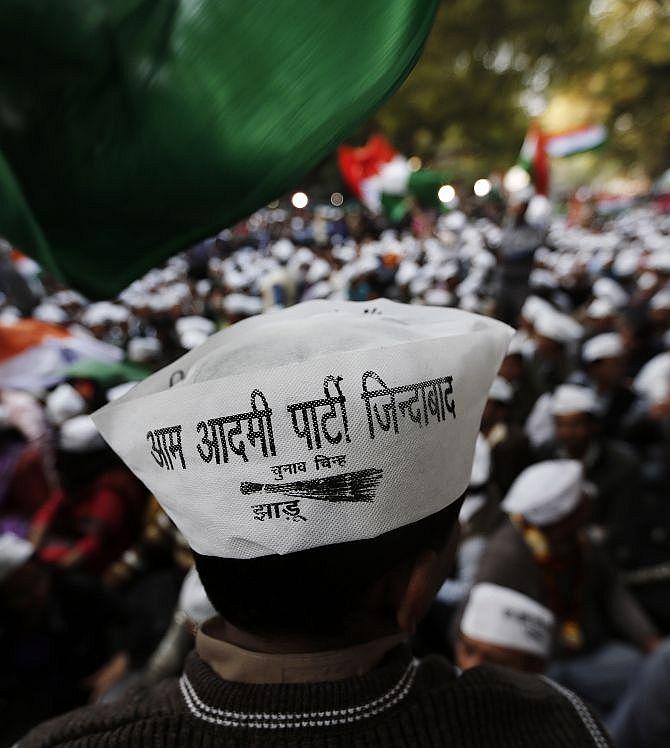 It came mainly from the United States. The second in line with contributions was the United Arab Emirates. Then Hong Kong, the United Kingdom, Singapore, Canada and Australia, in that order. The grand total of overseas contributions to the Aam Aadmi Party?
Last we checked, it stood at Rs 73,952,024, which accounts for 30 pc of its campaign kitty.
The remaining 70 pc of AAP's donations came from India itself, where over Rs 172,400,687 was donated by some 76,073 individuals. (Note to reader: this data may change; check (external link) AAP's donation list for the latest).
The average Indian donation is around Rs 2,266.
As for the overseas contributions, this was largely through micro-donations from Non-Resident Indians. Around 10,860 international donors contributed an average of Rs 7,386 each, to raise Rs 73,952,024. Here is an interactive breakup.
Raj Redij-Gill, who heads the AAP support network's global fundraising initiative from Staines-upon Thames in the UK, said social media and digital marketing technologies played a "critical" role in raising money. He said AAP activists had to think differently when the campaign started.
"There was no way we could do a traditional system of gathering money from donations on the ground because we didn't have the volunteer force," said Redij-Gill. "So we worked a lot on the global fundraising and this is an area where the NRI team came into play quite a bit."
Redij-Gill, a digital marketing professional who came to Britain from Mumbai in 1996, quit work to lead the party's fundraising effort. He said he had to move away from the traditional system of "having a few big sugar daddies who give you a few million and then you are beholden to them".
"We had a couple of the core team members embedded directly in the technology team," he said. "So quite a few people outside of India had the experience of working with social media and digital marketing."
Using NRIs also allowed 24-hour support for the AAP project. "As we were working across time zones it helped quite a bit that we could spread out our volunteer force across the world," he said.
AAP's California-based global media coordinator Pran Kurup said the difference between the AAP's approach to fundraising and that of other parties was "night and day".
"It's like comparing mobile phones and mainframes," said Kurup, an entrepreneur originally from Chennai. "One of the reasons we use different techniques is because of the support base we have. Younger people are doing this -- many people who have been exposed to the Obama campaign, for instance.
"This idea of online donations has been done previously, even when the India Against Corruption movement was there, even before AAP was born. The process was already started so it was easy to continue."
Kurup said that NRI supporters of AAP had experimented with different ways of raising funds from the diaspora. "We were able to come out with email campaigns where you write targeted emails like they did in the Obama campaign," he said.
"We tried blanket emails where you don't specifically ask for money, and where you ask for specific amounts and see what returns you get. Slowly you can build intelligence into the back end of the system whereby you can analyse the response rate, you know what works, what doesn't work, and over time you continue to improve it."
This coverage is part of Project India, a journalism initiative organised by Bournemouth University, the UK, and supported by Rediff.com.