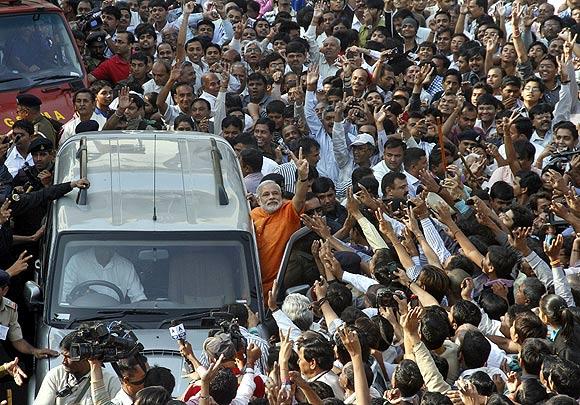 SIMI slogans in Bhopal against the next prime minister alert security agencies about a likely threat. Vicky Nanjappa/Rediff.com reports.
'Ab Modi teri baari (Modi, now it is your turn)'
This threat from 18 members of the banned Students Islamic Movement of India outside a court in Bhopal has alerted security agencies about a possible threat against prime minister-designate Narendra Modi.
SIMI activists, led by Abu Faisal, who were in court for a hearing on terror-related cases, were also heard hailing the Taliban.
For the last seven years, all major incidents of home-grown terrorism have been attributed to the Indian Mujahideen. With several IM leaders captured in recent months, that organisation is in shambles.
The threats to Modi heard outside the Bhopal court has been attributed to two factors -- SIMI trying to make itself noticed and an attempt to rally its cadres and hit at the Modi-led government.
All the 18 SIMI activists involved in the Bhopal incident have a Gujarat connection.
When they were arrested, the police recovered 600 gelatine sticks from them. They also had an escape plan for the Sabarmati jail in Gujarat.
The jailbreak, which was being planned over two years, was aimed at freeing SIMI leader Safdar Nagori.
Nagori's arrest left SIMI without a leader. Moreover, there are segments within SIMI who do not subscribe to his radical views.
A desperation has set in in SIMI, an Intelligence Bureau agent told this correspondent.
SIMI's imprint was visible in last year's blasts at the Modi rally in Patna, intelligence sources say. Although security agencies initially believed the Indian Mujahideen was responsible for the attack, the recent interrogation of IM terrorist Tehsin Akhtar revealed that SIMI had undertaken the terror operation.
Akhtar told his interrogators that IM only provided some logistical support for the SIMI plan.
With SIMI likely to embark on a recruiting mission, law enforcement agencies in states where it has a presence have been asked to stay alert.