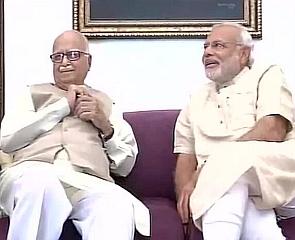 Prime Minister-designate Narendra Modi on Sunday called on party patriarch L K Advani after holding consultation with a number of party leaders including his key aide Amit Shah in New Delhi ahead of the formation of the next government headed by him.
Apparently to signal that the 86-year-old leader is being kept in the loop over key decisions, party general secretary Ananth Kumar also visited Advani's residence before Modi's arrival.
Special Coverage: Election 2014
The meetings at Advani's residence come a day after the BJP parliamentary board, the highest decision-making body of the party, met here for the first time after the landslide victory in the Lok Sabha elections to decide issues related to government formation.
Modi was welcomed by all leaders, including Advani who greeted him with sweets and an embrace yesterday.
Before the start of the meeting at the party headquarters, Modi had first greeted Advani and bent towards him in a gesture of respect. Advani had then embraced him.
Advani was initially opposed to anointment of Modi as the prime ministerial candidate and had even resigned last year from all posts in protest, only to change his decision a day later.
As preparations for government formation gained momentum, Modi held a meeting party general secretary J P Nadda, former chief minister and Karnataka strongman BS Yedyurappa and Bihar in-charge Dharmedra Pradhan earlier in the day.
Political developments in Bihar in the wake of resignation Nitish Kumar's resignation from the post of chief minister are understood to have also come up for discussion, party sources said.
The BJP is maintaining a wait-and-watch stand in the state, they said, in the backdrop of the Janata Dal-United legislature party meeting on Sunday to elect a leader.
Meanwhile, Modi will be formally elected as the leader of the BJP parliamentary party at its meeting in New Delhi on May 20 ahead of taking oath as the prime minister.
BJP chief Rajnath Singh has said the National Democratic Alliance allies will also be invited for a meeting on the same day where the leader of the coalition will also be chosen.
Modi arrived in Delhi on Saturday to a rousing welcome by the party and supporters and went to Varanasi where he took part in Ganga aarti before returning to the national capital in the evening.
Meanwhile, Nagaland Chief Minister Neiphiu Rio, who won the lone Parliamentary seat in the state, also met Modi at Gujarat Bhavan. Rajasthan Chief Minister Vasundhara Raje and Lok Janshakti Party chief Ram Vilas Paswan and his son Chirag also met Modi separately.
Image: PM designate Narendra Modi meets L K Advani at his residence. Photograph: ANI/Twitter