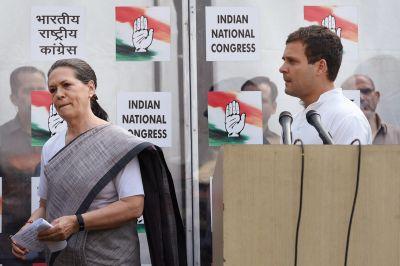 While the Congress leadership will undertake the mandatory introspection exercise to pinpoint the reasons for the debacle, Anita Katyal offers five factors which led to the humiliating rout.
While the Bharatiya Janata Party celebrated its massive victory in the Lok Sabha election, the mood at the Congress office was understandably sombre. With the 128-year-old party facing virtual decimation, stunned Congressmen were struggling to explain its worst-ever electoral performance.
Predictably, Congress President Sonia Gandhi and party Vice-President Rahul Gandhi put in a brief appearance at the party headquarters to take responsibility for the humiliating defeat.
While the Congress leadership will undertake the mandatory introspection exercise in the coming days to pinpoint the reasons for the debacle, here are five factors which led to the rout:
While nobody in the Congress is willing to accept it officially, Sonia Gandhi's decision to take a backseat in this election in her son Rahul Gandhi's favour did immense damage to the party.
Taking full charge of the election campaign, Rahul Gandhi failed to involve senior, experienced leaders in this exercise and instead depended on a small group of non-political players with Priyanka Gandhi Vadra playing a key role in these strategy sessions and building of what was supposed to be Brand Rahul.
The party's war-room on Gurdwara Rakabganj Road, where senior party leaders brainstormed about the election campaign and strategy in 2009, wore a deserted look while the scene of action shifted to Rahul Gandhi's home on Tughlak Lane. As a result, communication within the party broke down as most leaders were unaware of Team Rahul's plans.
Jairam Ramesh, who had successfully handled the party's election campaign in the 2004 and 2009 Lok Sabha elections, was marginalised midway during the election.
Sonia Gandhi did set up a massive campaign committee under her leadership which included virtually all senior party leaders, but this panel proved to be a non-starter. It met only once and was not heard of after that, while suggestions and proposals made at this lone meeting were promptly disregarded.
Failure of Brand Rahul. He has not displayed the requisite qualities to lead the party or connect with the electorate. His communication skills remain below par. Although he has been in politics for 10 years, he has proved to be a poor learner. This was amply demonstrated in his maiden full-length interview to Times Now when he failed to give convincing answers, coming through essentially as an immature leader.
In other words, he failed to inspire confidence among Congress workers and the public at large. Undoubtedly, Rahul Gandhi has strong views on democratising party structures and involving workers in the party's decision-making process, but these are, at best, long-term strategies.
Party workers, on the other hand, wanted solutions which would help them win an election in the immediate future. Rahul Gandhi's inadequacies stood out in sharp contrast to his mother Sonia Gandhi's strengths. She worked hard to galvanise party workers and streamline the organisation after she took charge of the Congress party in 1999.
Disregarding the ugly campaign mounted against her on account of her foreign origins, she made a determined effort to build alliances and did not hesitate to reach out to her detractors like Nationalist Congress Party leader Sharad Pawar and led the party to power for two terms. Rahul Gandhi, however, does not have any such qualities. He was always viewed as a reluctant politician and displayed no staying power.
The Congress ran a flawed election campaign. In contrast to the BJP's simple slogan 'Ab ki Baar, Modi Sarkar' that resonated immediately with the public, the Congress message 'Har haath shakti, Har haath tarakki' failed to make an impact.
The campaign did not focus sufficiently on the United Progressive Alliance government's achievements while Sonia Gandhi was missing from the posters.
In fact, Congress strategists had a tough time zeroing in on a slogan. Its catchy slogan 'Congress ka haath, aam aadmi ke saath' popularised in the 2004 Lok Sabha election could not be repeated as the Arvind Kejriwal-led Aam Aadmi Party had successfully hijacked it.
It was constrained to talk about change as this was a central theme of the BJP's prime ministerial candidate Narendra Modi's campaign.
The Congress blundered on several fronts, chief among these was lack of clarity on how it should counter Modi. Congress strategists were unable to decide whether they should pin down Modi on his communal agenda or his much-touted Gujrat model of development.
At one point it was felt the Congress should not rake up the 2002 communal riots in Gujarat as it would prove counter-productive, resulting in a Hindu consolidation. On the flip side, its attempts to punch holes in Modi's claims on development found few takers particularly since the Congress party's own credibility had hit an all-time low.
As the campaign progressed, the Congress changed tack and started attacking Modi for his divisive agenda and communal leanings. But it was too late as Modi had successfully projected himself as a strong and decisive leader who alone had the capability to pull the country out of the current mess.
With Modi converting this election into a presidential contest, the Congress failed miserably in its attempt to make it a battle of contrasting ideologies as it had hoped to do. While Modi succeeded in reaching out to all sections of society even in states where the BJP had no presence, the Congress had to contend with a shrinking support base.
Weak state leadership also proved to be the Congress party's undoing. Riven by internal dissensions, the party organisation is in a mess in most states while its leaders enjoy little or no autonomy.
For instance, a Congress chief minister does not have the freedom to make any changes in his cabinet. He has to first get a clearance from the party leadership in Delhi.
It would appear that the Congress paid the price for not encouraging and building strong state leaders. The BJP, on the other hand, has powerful state leaders who are given sufficient freedom in running their respective states.
As a result, Madhya Pradesh Chief Minister Shivraj Singh Chouhan and Chhattisgarh Chief Minister Raman Singh and Rajasthan Chief Minister Vasundhara Raje delivered blockbuster victories in their states, propelling the BJP to power at the Centre.
Narendra Modi is the most telling example of how the BJP has encouraged and nurtured its state leadership. It is impossible to imagine the emergence of a Congress chief minister on the national stage on his own accord.
The Congress paid the price for the UPA government's failures. While there is no doubt that the Congress ran a confused campaign, led by an uninspiring leader, it is also true that the corruption scandals, which surfaced during the UPA regime and the government's inability to control inflation and tackle the economic slowdown, contributed in a large measure in discrediting the Congress.
In addition to these factors, Prime Minister Manmohan Singh's perception as a weak and uncommunicative leader was also instrumental in destroying Congress credibility. The BJP succeeded in exploiting these issues effectively by projecting Modi as a capable administrator and a decisive leader.
Image: Congress President Sonia Gandhi and Vice-President Rahul Gandhi made a brief address before the media on Friday to accept responsibility for the Congress's disastrous performance in the general election. Photograph: PTI Photo.