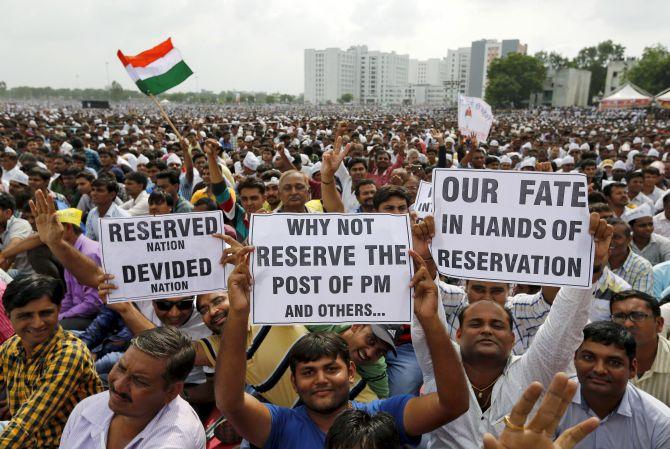 Members of the Patel community display placards as they attend a protest rally in Ahmedabad. Photograph: Amit Dave/Reuters
In a stern message to the Gujarat government, the Patel community on Tuesday held a massive rally in Ahmedabad to press for their demand for OBC status and warned that BJP will not be able to return to power in 2017 if they are not given reservation.
Campaign leader Hardik Patel, in a hard-hitting speech, said if the government ignored the demand of the community, the BJP in Gujarat will face consequences in the polls and "lotus will not bloom".
Patel, who has imparted momentum and virulence to the struggle as leader of the Patidar Anamat Andolan Samiti, also threatened to go on hunger strike at the venue till Chief Minister Anandiben Patel turns up and takes the memorandum from the outfit.
As members of the numerically strong and economically influential community of Gujarat poured in large numbers for the "Maha Kranti" rally, the city to came to a grinding halt for hours.
"If you do not give us our right (reservation), we will snatch it. Whoever will talk of interest of Patels will rule over Patels," Hardik told the gathering.
"In 1985, we had uprooted Congress from Gujarat, today there is BJP. 2017 (assembly polls) is coming... lotus will not bloom in the mud, it will never bloom. If you will talk about our interest then only we will nurture your lotus," he said.
Patels have declined to call off the agitation despite Anandiben Patel expressing her inability to accord the OBC status to the community, citing the Supreme Court guidelines and judgements on the issue.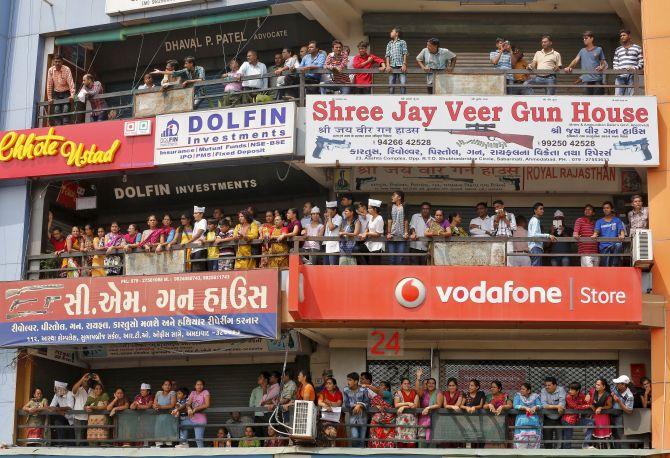 People watch a protest rally by members of the Patel community from a shopping mall in Ahmedabad Photograph: Amit Dave/Reuters
"Some parties say you do not know about Supreme Court guidelines (of 50 per cent cap on reservations), this cannot happen. If Supreme Court can open at 3.30 in the morning for a terrorist, then why not for the youth, the future of this nation?" Hardik said amid thunderous applause by the crowd.
The protest, however, triggered clashes various parts of the city as police baton-charged and lobbed teargas shells to control the situation, officials said.
Clashes between Patel community members and local residents were also reported from Vadaj, Vastrapur, Nikol and Paldi areas when they allegedly tried to enforce a bandh called by the agitating outfit.
In Vadaj, where Patels tried to enforce a bandh, local residents belonging to Dalit community resisted the move, resulting in clashes and stone-pelting between the two communities, police said.
"Police lobbed a tear-gas shell and also baton-charged crowd when two groups of Patels and Dalits clashed with each other," city control room's police inspector D R Dhamal said.
The protesters allegedly vandalised shops and buses in the area near Vadaj Police chowk and later had a scuffle with Dalit community members, Dhamal said.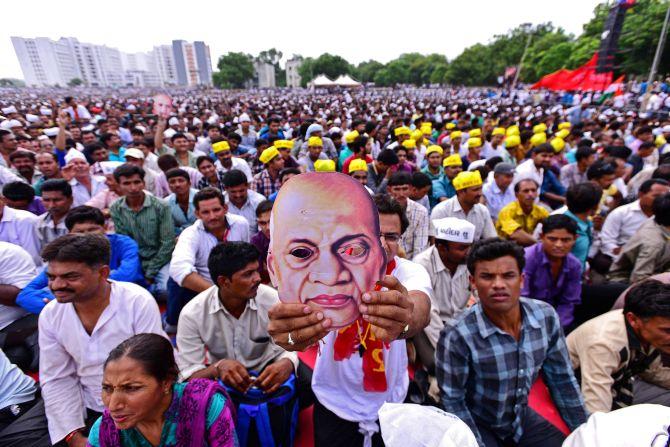 A youth displays a mask of Sardar Vallabhbhai Patel during the Kranti rally (revolution march) organised by the Patel ( Patidar) community to press their demands for reservation, at GMDC Ground in Ahmedabad. Photograph: PTI Photo
Sporadic clashes were also reported in Vastrapur, Paldi and Nikol areas of the city after protesters from Patel community used force to shut down shops.
Large groups of Patel community youths went around various roads of the city on their two-wheelers wielding sticks to enforce the bandh.
Some people also reportedly damaged window panes of city buses at various places.
Reacting to the protest's violent turn, Hardik accused police of beating up protesters and threatened that the government would face the worst consequences due to this.
"The police have done wrong by beating protesters of the Patel community in Paldi and Mansi cross road in Vastrapur," he said.
Earlier, addressing the rally, 22-year-old Hardik said the agitation was apolitical, refuting the charge that it was instigated by the Congress, the Aam Admi Party and even sections in the BJP.
"Some said your agitation is supported by Congress, some said your agitation is inspired by BJP, while some others said it is sponsored by Aam Aadmi Party, but we are apolitical," he said.
"We have elected representatives from Gujarat and we have sent representatives to the Centre, they are not there just to make laws or to amend the Constitution. We have sent you to serve our community... we only need our rights," he said.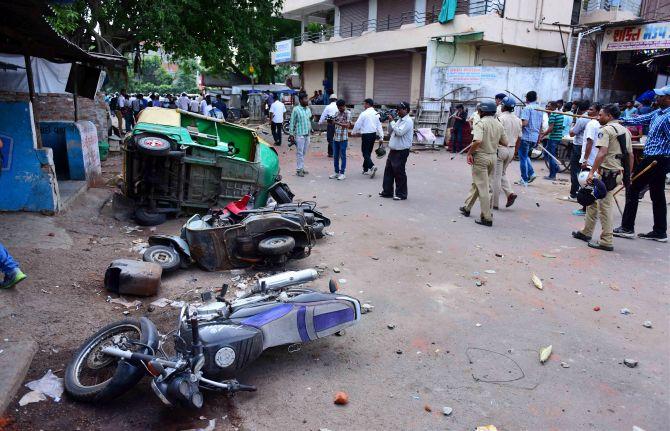 Police charge Patel community members after their agitation for reservation turned violent in Ahmedabad. Photograph: PTI Photo

"One of the friends told me you have led agitation against our people (as the chief minister is also Patel), I replied we have started this agitation because they are our people. They should also understand we have came out with this agitation to demand for our right," he said.
Holding that the community forms a major chunk, Hardik said, "We (Patel-farming community) are not in Gujarat only... We are 1.80 crore in Gujarat..., we also have a large presence in the country."
"A person told me that you (Patels) have a political clout in Gujarat, I told him...have you just seen Gujarat don't you see Bihar...even Nitish Kumar is ours...Don't you see in Andhra Pradesh... Chandrababu Naidu is ours," he said.
"In Gujarat we have six MPs, while in India we have 170 MPs ...Nobody is aware of that...our seal will be there on dollars," he said.
Meanwhile, rift between two major groups of the Patel community seeking reservation came in open with Sardar Patel Group, led by Lalji Patel, distancing itself from the decision of hunger strike by Hardik. He said he was prepared to hold talks with the government on the issue.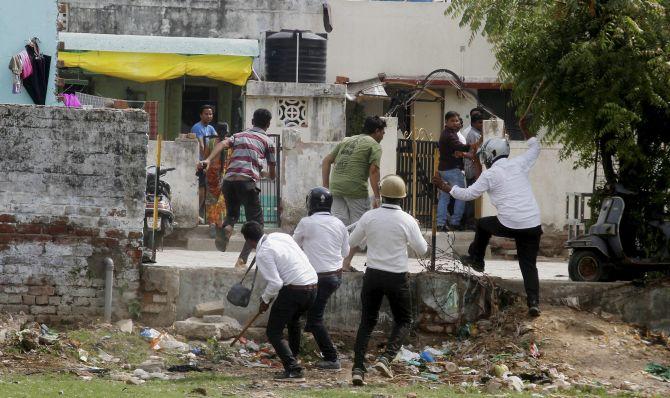 Police resort to lathicharge after violent clashes between Patel community and OBC members at Juna Wadaj locality in Ahmedabad. Photograph: PTI Photo

SPG, the biggest Patel community social group, had earlier supported Hardik's 'Patidar Anamat Andolan Samiti' for organising the mega rally.
"Hardik's decision of sitting on hunger strike until the chief minister comes and take memorandum from him is his individual decision, which is not supported by others," Lalji Patel told reporters.