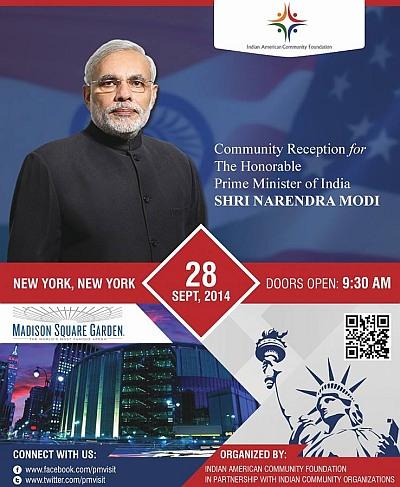 A lottery system would decide the participants who would get to attend the public reception of Prime Minister Narendra Modi on September 28 at the prestigious Madison Square Garden in New York City, organisers of the event have said.
Indian-American Community Foundation, set up recently for the purpose, till Monday midnight had received some 20,000 applications from people across the country -- from as far as remote parts of Alaska and Hawaii.
Monday was the deadline for on-line applications for members of the 407 Indian-American community organisations and religious institutions, who have joined hands to host Modi's public reception.
On Tuesday, the Foundation opened the process for inviting on-line applications from the general public for the event.
Madison Square Garden has the seating capacity of not more than 20,000.
September 7 is the last day for online application for general admission, during which organisers are expecting several thousands to register for the event.
As a result, several individuals associated with planning and organisation of the public reception said it has been decided that a lottery system would decide on who would be able to attend the high-profile event.

"A random number lottery will be conducted to assign tickets to everyone registered," the dedicated website said yesterday as it opened up the general registration process.
"I was not there when Swami Vivekananda spoke in Chicago in 1893. I do not want to miss when another Narendra is about to deliver a historic speech in New York," said Anju Preet, a scientist from the prestigious GeorgetownUniversity in Washington.
Subject to availability of tickets, she plans to take both her sons to the event.
Tickets for the programme are free.
Organisers said, overwhelming response has not come as a surprise to them.
"We were expecting this. Given Modi's popularity, even a stadium of the size of 60,000 to 70,000 would have been smaller.
"We tried our best to get the two stadiums in New York, New Jersey area, but they were booked because of games. The MadisonSquareGarden is the largest venue one that we can get for this day," one of the organisers told PTI.

The community leader requested anonymity, as they are not authorised to speak to the press.
They said there is a huge media interest both in the US and also from India to cover the event.
While preparations are in the full swing and final decision is yet to be taken, those involved in the preparations exuded confidence that it would be a "memorable event".
In fact, more than 700 Indian American organisations had shown interest in being a partner to the reception.
Following strict scrutiny, who met the basic criteria like the number of years, not-for-profit, religious institutions, or filing annual income tax returns -- so far 407 Indian-American organisations have been registered as "Welcome Partners for the Community Reception" for Modi.