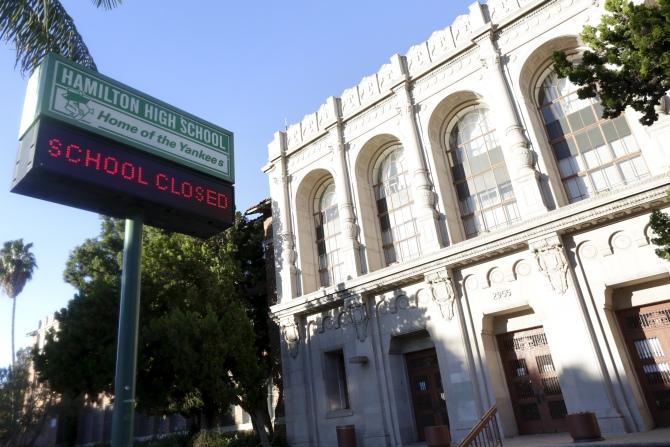 All public schools in the Los Angeles area have been closed due to an unspecified "electronic" threat, affecting over 660,000 students in one of the largest School District in the United States, officials said on Tuesday.
Authorities decided to close the entire school system after it received a "credible threat" of violence involving backpacks and packages left at school campuses, officials said at a press conference.
"Earlier on Tuesday morning we did receive an electronic threat that mentions the safety of our schools," said Steven Zipperman, chief of the Los Angeles school police department.
Ramon Cortines, superintendent of Los AngelesUnifiedSchool District, said the shutdown was ordered after authorities alerted him to a threat "made to not just one school, but many schools in this school district".
The complete shutdown of public schools in Los Angeles come just days after the December 2 attacks in nearby San Bernardino by a Pakistani-origin couple that killed 14 people.
"I think it's important to take this precaution based on what has happened recently and what has happened in the past," said Cortines.
"All LAUSD schools are closed to ensure safety of students," said school system said on its website. The Los AngelesUnifiedSchool District is the second largest school system in the US with more than 660,000 students in kindergarten through 12th grade and 250,000 in the adult education program.
It has more than 900 schools, the Los Angeles Times reported.
The Federal Bureau of Investigating is looking into the threat and still analysing it.
"The threat is still being analysed. We have chosen to close our schools until we can be sure our campuses are safe," Zipperman added.
Image: A sign at Hamilton High School is pictured reading 'School Closed' in Los Angeles, California. Photograph: Jonathan Alcorn/Reuters