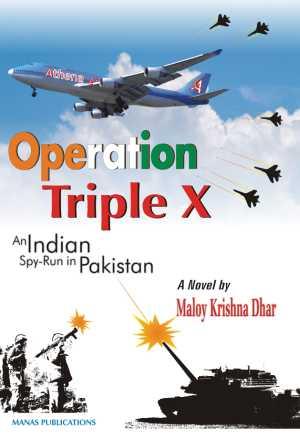 This is a "near-real life classic story" says its author Maloy Krishna Dhar, former joint director of the Intelligence Bureau, India's internal intelligence agency.
Dhar has penned a novel named Operation Triple X, an Indian spy-run in Pakistan to be published soon by Manas publications.
Dhar has completely revamped his previous novel Mission to Pakistan – An Intelligence Agent in Pakistan to write the new book, claims his publisher Vivek Garg.
His previous non-fiction book Open Secrets: India's Intelligence Unveiled had become quite controversial attracting some harsh reviews. This time also his new book will raise some controversies.
Dhar claims that Operation Triple X is based on the real life story of Ravindra Kaushik, an Indian sleuth belonging to the Research & Analysis Wing, India's external intelligence agency.
According to the author, Kaushik died in a Pakistani jail.
Dhar claims that Kaushik had changed his identity and was known in Pakistan as Hanif. He managed to join the Pakistan Army, too. But he was "exposed" and arrested. He had two children from a Pakistani wife.
"In 1998, the Pakistan Human Rights Commission traced him. Till then, the government of India had denied his existence. He was seriously ill and some medicines were also sent from India. He was injected with opium by Pakistani authorities to make him senile," Dhar adds.
Before writing the novel, Dhar met Kaushik's family. The novel has shades of Veer Zaara, the Hindi film in which Shahrukh Khan and Preity Zinta starred.
Dhar's hero, the Indian spy, goes to Pakistan, changes his identity and name to Harfan and falls in love with Pakistan beauty Jamilla, daughter of an industrialist.
Their son Pervez becomes his weak link. Many times Harfan feels like telling the truth to Jamilla. Dhar has tried to narrate his anguish of hidden identity, and his spy-craft in detail.
Harfan joins the Pakistan Army, but after some years his identity is compromised. Alam, his master handler, wants to eliminate him to save his own skin. Pakistan's intelligence agency wants to kill him for obvious reasons. The story is about his escape from Pakistan.
Operation Triple X is developed in the background of India-Pakistan relations between 1964 and 1971.
To avoid defamation or governmental ban, Dhar has dubbed RAW as National Security India.
However, former additional secretary of the Cabinet Secretariat and well-known columnist B Raman told rediff.com, "Since its inception in 1968, no officer of RAW has died in Pakistan."
Dhar, while speaking to rediff.com, explained his motive behind writing this story. "In India no credible spy story has been told. In the US and UK, there are many authors who have written spy stories, which have caught the imagination of the people," he said.
Dhar says in his novel he has written about how an intelligence agent is recruited, trained, how he infiltrates and parks himself in the target country.
"This craft of spying is given in great detail in this book. Since nobody would be interested in reading these things in non-fiction form, I gave it in a fiction format," he says.
Dhar has interwoven history and his fiction in such a manner that many would like to question the author's motive. Dhar agrees that to avoid attracting defamation of any kind, he has used format of fiction to reveal his knowledge of spy-craft.
When asked why he is revealing "trade secrets", Dhar says, "In India we are living in the 18th and 19th centuries. The concept of security has changed. This is the 21st century. Whatever CIA does today people come to know tomorrow. In the US and UK there are committees which overlook or review their operations."
"CIA's stance over Iraq stands exposed, but what about the Indian intelligence's role in Kargil? Here no heads rolled. Rather, the chief of RAW was awarded governorship in Arunachal Pradesh and the IB fellow went to Nagaland. I want our intelligence agencies to become accountable," he says.
Dhar says his account of Pakistan, and its leaders like Zulfikar Ali Bhutto and Yahya Khan is not charitable. Similarly, a Congress politician Ram Karan Prasad, a character in the book, is portrayed as the typical corrupt politician who indulges in smuggling and other nefarious activities.
But, he has praised Indira Gandhi for her role in creation of Bangladesh. "Indira gave glory to India by winning the war of Bangladesh," Dhar says.
Dhar, in real life, was a sleuth for more than 30 years in IB, but has written a novel based on a RAW sleuth.
"The craft of spying is the same in internal or external intelligence agencies. It's like physics or chemistry. It's just science. People should not object to my writing about it. There are no state secrets where national interest gets affected," Dhar adds.
Dhar's next book is on the electoral system of India and is named We, The People of India. And later, he will come out with a book on the Operation Black Thunder of Punjab. He himself participated in it as a very important operator of the IB.
Text: Sheela Bhatt
Read More:
'It's an all out invasion of India'
Why does Indian intelligence fail?
'Indian Muslims believe in their Indianness'