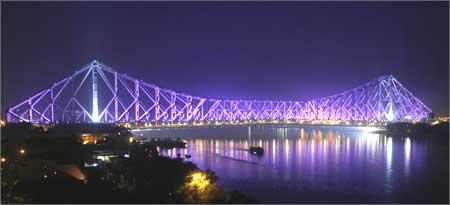 Kolkata's biggest landmark, the Howrah Bridge, which spans the River Hoogly, was illuminated on November 23.
The 63-year-old bridge, which connects Kolkata and Howrah was been illuminated by The Kolkata Port Trust. 
The bridge was built between 1937 and 1943 to replace a bridge that dated from 1874. It is said to be the busiest bridge in the world.
Currently used as a road bridge, it used to have a tram route as well. The bridge also has sister bridges over the river at different points, namely the Vidyasagar Setu and the Vivekananda Setu.
Photograph: Deshkalyan Chowdhury/AFP/Getty Images